ALIVE Foundation Empowering Communities For 11 Years
July 24, 2019
By Team Business For Home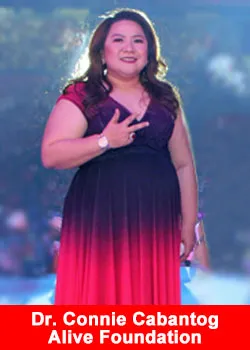 Recognizing that social responsibility is a huge part of the industry, Alliance In Motion Global, one of the most respected companies in the MLM industry, continues to make a big  difference in the lives of people.
As soon as distributors and future leaders join the company, they are immediately taught to see that helping those who are in need is as fulfilling as getting their first million.
Through AIM Global's charitable wing ALIVE Foundation, the distributors are encouraged to help different communities by volunteering in outreach programs, blood donation programs, relief good operations, medical missions and parties for children with special needs that are organized by the foundation.
The ALIVE Foundation's charity projects encourage distributors andtop leaders to re-examine their life and their place in the world, to ground themselves and to relate or to understand the situations of the underprivileged. They are also a reminder for them to drop everything and just do something good or to respond to a leader's kindness by being kind to someone else who is in need.
Since its inception in 2008, ALIVE Foundation has assisted thousands of disadvantaged families in the Philippines and has also spread its wings to several countries in Africa.
To celebrate AIM Global's 13 years of exceptional victories and ALIVE Foundation's 11 years of service to humanity, Chairperson of ALIVE Foundation and Director for International Affairs Dr. Connie Cabantog organized a dual simultaneous outreach program in the Philippines last May 17, 2019.
These charitable events would not be possible without the support of AIM Global's Chief Executive Officer & Visionary President Dr. Ed Cabantog, Chief Marketing Officer Mr. John Asperin, Vice President for Training and Networking Development Mr. Arnel Limpin and Vice President for Business Development Engr. Jurgen Gonzales, and the company's international partner suppliers  Nature's Way & NaturaLife Asia. They generously donated USD 80,000as their way of showing their active support to ALIVE Foundation with regards on fulfilling its endeavors on making positive impact to humanity at the AIM Global's 13th anniversary celebration held at Philippine Arena last May 19, 2019.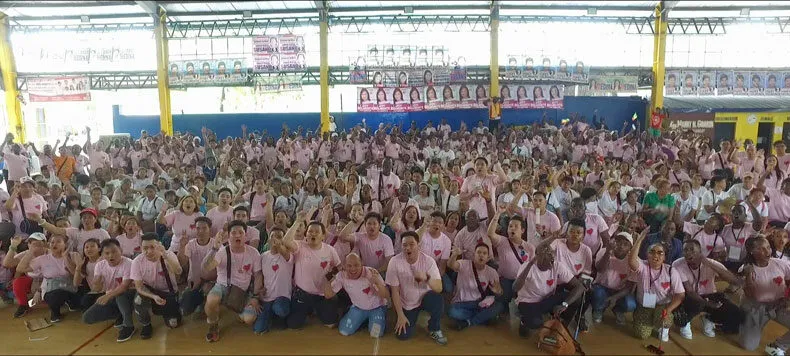 The first outreach program was held in Kamuning, Quezon City where the beneficiaries wereomit the 1,000 families who were victims of a vicious fire that engulfed their community. While on the other sideof Quezon City, the needy communities around the Payatas Dumpsite, or the ''modern-day Smokey Mountain," received bags of rice, groceries, sleeping mats, blankets and slippers.
A fun-filled kiddie party was also organized for children with special needs. The kids beamed with joy and enjoyed the activities – dance numbers, games, prizes,over-flowing food, drinks, and ice cream with the 1,000 international delegates, the company's staff,  and volunteer local distributors and top leaders.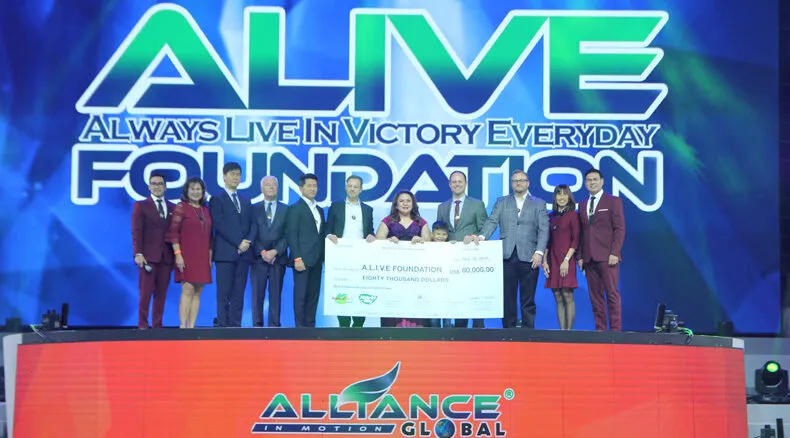 For more than a decade, the people behind ALIVE Foundation dedicated their lives to help the poverty-stricken and disabled communities. Alliance In Motion Global and ALIVE Foundation will continue its humble commitment toleave a legacy of giving hope to the less fortunate and raising social responsibility awareness in the MLM industry.
ABOUT AIM GLOBAL
Founded by Network Marketing icons Raymond "John" Asperin, Engr. Francis Miguel and Dr. Eduardo Cabantog in 2006, Alliance In Motion Global (AIM GLOBAL) is the leading direct sales network marketing company in the Philippines. The company markets and distributes top of the line Nutraceutical supplements, weight loss wellness products, personal care and skincare products, functional beverages, and premium lifestyle products.
The company is a proud member of MLMIA (Multi-Level Marketing International Association) in the USA, a founding member of Direct Selling Association in Pakistan (DSAP) and Direct Selling Education Institute (DSEI) of Dubai, UAE.
AIM Global has 130 business center offices in the Philippines and has global offices in 20 countries namely Hong Kong, Singapore, Taiwan, Brunei, Papua New Guinea, UAE, Bahrain, Kuwait, Pakistan, Nigeria, Ghana, Kenya, Uganda, Togo, Ivory Coast, Cameroon, Tanzania, Rwanda, and the Solomon Islands.
AIM Global is categorized as "+AAA" business opportunity, Top 100 Solid MLM Direct Sales Company 2018-2019, Top 10 Momentum Direct Selling Companies 2018-2019, Founder/Director/CEO and Visionary President Dr. Eduardo Cabantog as one of the Ambassadors of Network Marketing – Hall of Fame 2018 by Business For Home, top awardee in the Direct Sales category of Asia Pacific Entrepreneurship Awards 2017 and winner at the International Innovation Award 2018 for its revolutionary Daily Payout System. For more information please visit www.allianceinmotionglobal.com