An Active Pharmacist Building a Future Fighting for Health With Stay-At-Home Business
July 9, 2019
By Nicole Dunkley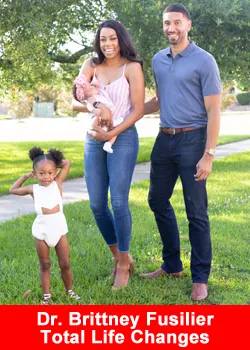 Total Life Changes welcomes Dr. Brittney Fusilier. Wife of John Dwight and mother of two-year-old Madison Kate, two-month-old Olivia Grace, and an adorable Golden Doodle named Murphy.
Brittney is an accomplished LSU graduate (2011), majoring in Accounting while earning a 4-year letterman as a volleyball player. Following her accomplishments at LSU, Brittney continued her education at Xavier University of Louisiana earning a doctorate degree of Pharmacy in 2015.
First and foremost I am a child of God. I am intentional about glorifying Him and living life freely and abundantly! Everything that I have and all that I am I give thanks to Christ. I may or may not be forever indebted to XULA because that's where my husband and I first met.
My husband and I are both Pharmapreneurs (Pharmacists + Entrepreneurs) who are continuously working diligently to build an empire for our family! In a nutshell, I'm a God-fearing woman that loves her family, and I feel as though my purpose in life is to show others that life has so much more to offer than just going to work for 40 hours per week, for the next 40 years, to retire with 40% of a 401k from a salary that was essentially never really enough in the first place. I was once that closed-minded individual that thought that was the only way of life, and the moment I opened my mind, was the moment my life changed forever.
Brittney was introduced to the network marketing industry 3.5 years ago. She was excited about the opportunity to fulfill her aspirations as a pharmacist and an up-and-coming entrepreneur, hence becoming a "Pharmapreneur".
Total Life Changes is a perfect match for Brittney and her family. She is excited to become an even stronger advocate for men and women seeking a healthier lifestyle and the opportunity to supplement their income or perhaps transition from their current career to direct sales.
She explains:
"I am a servant leader. I enjoy helping families, helping people, coaching people how to overcome any rejections in their business and truly just helping them live their best life." Brittney reaches thousands Online as a Media Blogger and Influencer.
It's a great platform to advocate for change. This new company I joined is called Total Life Changers. I feel responsible to change people's lives and I am able to reach so many on this platform. It's not to expose "my business", it's more about connecting with women and men that are looking for something more.
I get to do what I am passionate about. I can share amazing products that I use and believe in. It's really not difficult once you understand that it takes 'quality" repetition and a positive mindset to show people how to be successful in consuming these products.
Once they get results I explain how they can earn free products or join me in my business and make commissions on a weekly basis. That's the secret sauce. You need to be genuine as you are building relationships. Once customers have earned your trust, they will be customers for life; many of which will be inspired to join your organization.
Follow Brittney Fusilier @brittfusilier on Instagram and Facebook
About Total Life Changes
Total Life Changes offers a diverse product portfolio of health, wellness and beauty products. Founder and Tea Executive Officer Jack Fallon created TLC over 17 years ago with a single product: NutraBurst®.  Since that time, TLC has continued to develop weight loss and wellness products to include a diverse product portfolio matched with an attractive hybrid binary compensation plan. This allows Life Changers of TLC to be rewarded quickly for introducing new customers to its products and business opportunity. Find out why so many are saying, 'It really is different over here.'
To get more information, facts and figures about Total Life Changes, click HERE for the Total Life Changes overview.