Direct Sales Company DotDotSmile Added To The BFH Database
July 4, 2019
By Team Business For Home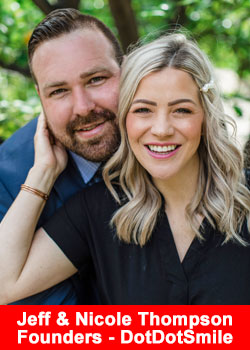 According to the company:
DotDotSmile found its beginnings back in February of 2013. One evening, Nicole was sitting on the couch late at night with time to reflect on life and her current situation.
At the time, she and her husband, Jeff, were living with her parents as they had chosen to save money for a down payment on what would be their first home. As she sat there quietly, she pulled out her gratitude journal, which was something Nicole had committed to doing as a New Year's resolution.
As she quietly wrote in the journal, she was filled with gratitude for all the many blessings she had been given. Somewhere between her pen touching the paper and closing the journal before bed, she had received inspiration from God. She felt prompted to start a children's clothing line with the intention of creating something that would bring further joy to children by the clothing they wear every day.
Since Jeff had already gone to bed as he had to get up early for work, Nicole did not have the time to discuss the inspiration with him but was determined to see it through. Deciding to act on her prompting, she headed for LA the very next day.
Taking all the cash savings she and Jeff had built up until that point, she arrived in LA and gathered as many cute and unique textiles she could find. On her way home, she called Jeff and informed him of her dream and inspiration. Jeff was thrilled to hear it. He had always believed in her and was eager to hear more about it that evening.
Nicole was filled with remorse and even questioned what she was doing for a split second, but Jeff was there to reassure her and express belief in what she had felt and the path on which they were about to embark.
In February of 2017, Jeff and Nicole announced their intentions of adopting a Direct-Sales model which would encourage customers and wholesalers alike to build teams and encourage each other on this journey. In July of 2017, the software and infrastructure were in place to welcome people into the DotDotSmile Family officially where our purpose is to create smiles and build confidence through our core values which are: teamwork, optimism, gratitude, respect, empathy, innovation, accountability, integrity, quality, and fun!
Looking back, it has been several years since DotDotSmile's inception in 2013. The most beautiful thing of all is that it was founded on the principle of gratitude.
To this day, Jeff is grateful for Nicole's talents, her belief in herself, her eye for fashion, her strength, her humility and her great love for her family. Together, they are so grateful for the personal revelation Nicole received that day in 2013 and most of all, for all the customers, children, and Independent Merchandisers who believe in their vision and brand. To all of you they say, "THANK YOU!"