Full-Time Commercial Engineer Achieves National Rank With Total Life Changes
July 30, 2019
By Nicole Dunkley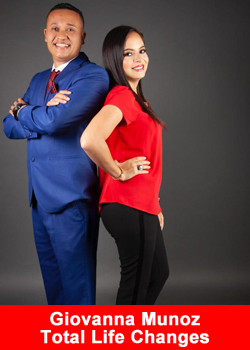 As a wife, commercial engineer, and mother of 3 children, Giovanna Muñoz knows a bit about staying busy and working hard. Determined to improve her financial situation, she sought additional financial opportunities and finally learned about the awesome compensation plans in the MLM industry — especially at Total Life Changes.
Giovanna joined TLC in 2016, thanks to her sister who introduced her to their (successful) mutual friend, Fermín Vera, who has been Giovanna's guiding light to making total life changes.
"Fermín has been my guide in this process of change. When he presented TLC´s Compensation plan to me, it was like love at first sight. I couldn't say no," said Giovanna.
Shy and introverted, Giovanna's biggest challenge was herself and she knew it was going to be hard work. As part of a direct selling business, Giovanna had to develop the skills and confidence in order to succeed.
"I decided that meeting my financial goals and getting out of debt was bigger than my inner fears and shyness," said Giovanna. "I earned $600 in the first month."
Years later, she is now a National Director at TLC, generating more than $11,000 USD.
"I consider TLC my second family because everything in the company is about love, partnership, and loyalty. TLC has it all: products that work, an amazing compensation plan — that's why many people have made the decision to join the company all over the world."
TLC doesn't just seem like a family to Giovanna, in fact, her family is also involved in the business. Her aunt has already generated more than $15,000 USD in one year and her husband earned $5,000 USD in only 4 months.
Giovanna doesn't just love the compensation at TLC either. Since she joined the company back in 2016, her favorite product has been the Iaso® Tea. It has helped her with her digestion and helps eliminate fluid retention from her body. She was even able to lose 7 pounds in his first five days.
After losing her father at just 3 years old, Giovanna wanted to make sure she is not only around for her kids, her husband, and her mom, but that she also has the time and finances to live a fulfilling life with them.
TLC is a blessing. This company allows you to have quality time with your family, with your children, and with your business partners who become friends along the way. I am traveling with my husband and we are discovering the world together. We also were able to buy a new car for our family and to improve the education of our children.
One of Giovanna's short-term goals is to impact more families with TLC opportunities and openings in new countries. In the long term, she hopes to position herself in all the continents of the world.
"Remember if you can DREAM IT, you can CREATE IT."
About Total Life Changes
Total Life Changes (TLC) is a direct selling company offering a diverse product portfolio of health and wellness products. Founder and Chief Executive Officer Jack Fallon created TLC 16 years ago with a single product: NutraBurst®. Since that time, TLC has continued to develop weight loss and wellness products matched with an attractive hybrid binary compensation plan. This allows Life Changers of TLC to be rewarded quickly for introducing new customers to its products and business opportunity. Find out why so many are saying, 'It really is different over here.'