Kai Hayes Achieves Elite Pro 8 Rank At LifeVantage
July 22, 2019
By Team Business For Home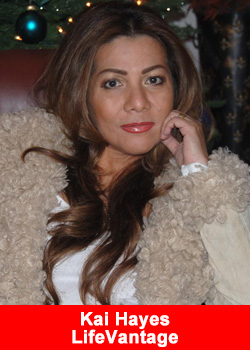 LifeVantage (Nasdaq:LFVN) has announced that Kai Hayes has achieved the rank of Elite Pro 8 within the company.
"When you combine talent and heart with perseverance, you get Kai Hayes,"
said LifeVantage Chief Sales Officer Justin Rose.
"She's risen from depths that very few of us can imagine to achieve a level of success – both inside and outside of network marketing – that even fewer can understand. We're so excited for her and extremely proud to call her one of our own."
Hayes, who was born in the Philippines grew up in destitute poverty. At the age of 25, she became responsible for caring for her parents and grandparents alone – and then became a single mother at the age of 33.
"It was at that point that I took my son in my arms and promised him that he would never experience poverty like I did,"
Hayes said.
Hayes eventually launched a successful career in sales and marketing. It provided more wealth but less freedom, as she was forced to choose between spending time on her career or focusing on her son.
After selling her telecom company, moving to the U.S., and establishing another successful career as a banker, Kai was introduced to LifeVantage in 2011.
"It was like a lightbulb went off in my head," remembers Hayes.
"I knew this opportunity could change my life. I never expected to become a leader or a role model back then, but I've tried to do it the right way, with integrity and being honest with other people and myself."
Hayes currently lives and works in Austin, Texas, with her husband, Greg, and her three children: Grant, Michelle, and Nico.
About LifeVantage
LifeVantage Corporation (Nasdaq: LFVN) is a pioneer in Nutrigenomics – a new science dedicated to biohacking the human aging code. The Company engages in the identification, research, development, and distribution of advanced nutrigenomic dietary supplements and skin and hair care products, including its scientifically-validated Protandim® product line,
Omega+ and ProBio dietary supplements, its TrueScience® line of Nrf2-infused skin and hair care products, Petandim™ for Dogs, Axio® Smart Energy Drink mixes, and the PhysIQ™ Smart Weight Management System.
LifeVantage was founded in 2003 and is headquartered in Salt Lake City, Utah. For more information, visit www.lifevantage.com.