Kannaway Joins The European Industrial Hemp Association
July 3, 2019
By Team Business For Home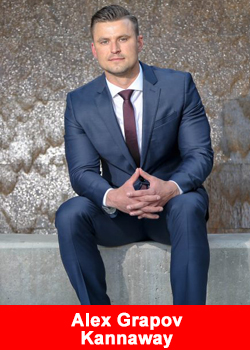 Medical Marijuana, Inc. (OTC:MJNA) (the "Company"), the first-ever publicly traded cannabis company in the United States that launched the world's first-ever cannabis-derived nutraceutical products, brands and supply chain, announced today that its subsidiary Kannaway® has become a member of the European Industrial Hemp Association (EIHA) and will participate in the organization's operational and legislative activities.
"We're excited to be recognized as a leader in the European hemp industry,"
said Kannaway® Vice President of International, Alex Grapov.
"We look forward to working with the EIHA to help drive global policy changes regarding the legislation of hemp and CBD and help spread education on the potential wellness benefits of CBD."
The EIHA is the only coalition for the industrial hemp sector in Europe. Its members, representing 31 different countries, are players in industrial hemp processing and distribution, car manufacturing, construction, food and feedstock, as well as the pharmaceutical sector.
Research institutes and financial investors also help guide the EIHA's activities. This organization lobbies for legislation surrounding hemp and CBD throughout the EU and organizes events to connect industry leaders.
According to the Brightfield Group, a predictive market intelligence firm, Europe's CBD market was estimated at $318 million in 2018 and is expected to grow over 400 percent by 2023.
Kannaway®'s Europe Division has grown exponentially within the past two years. The company has hosted over a dozen events throughout the EU, garnered more than 50,000 Brand Ambassadors and began selling in many new markets and countries.
The company launched its European operations in 2018 with its Grand Opening Event in Prague. More than 2,000 people attended, and the company revealed several new innovative CBD products. This led to a significant amount of Kannaway®'s 2018 revenue coming from its European operations and the company experienced an increase of nearly 200% in revenue over 2017 revenue.
"Europe has shown us great potential for operational growth and we're enthusiastic about the future of CBD there,"
said Medical Marijuana, Inc. CEO Dr. Stuart Titus.
"Working with the EIHA is a stepping stone to connecting with a larger audience there and helping the CBD industry progress as a whole."
To learn more about the European Industrial Hemp Association and see a list of its exclusive members, please visit https://eiha.org/members/.
About Kannaway®
Kannaway® is a network sales and marketing company specializing in the sales and marketing of hemp-based botanical products. Kannaway currently hosts weekly online sales meetings and conferences across the United States, offering unique insight and opportunity to sales professionals who are desirous of becoming successful leaders in the sale and marketing of hemp-based botanical products.
About Medical Marijuana, Inc.
We are a company of firsts®. Our mission is to be the premier cannabis and hemp industry innovators, leveraging our team of professionals to source, evaluate and purchase value-added companies and products, while allowing them to keep their integrity and entrepreneurial spirit.
We strive to create awareness within our industry, develop environmentally-friendly, economically sustainable businesses, while increasing shareholder value. For details on Medical Marijuana, Inc.'s portfolio and investment companies, visit www.medicalmarijuanainc.com.