National Director Dickson Serrano Achieves Success with Total Life Changes
July 23, 2019
By Nicole Dunkley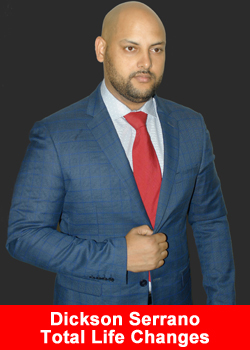 Dickson Serrano was first introduced to the MLM industry in 2012 and fell in love with the opportunities. Since then, he has bounced around to different companies with unkept promises, searching for the right fit.
It wasn't until 2017 that he was introduced to Total Life Changes, that he really started achieving his dreams.
"The Only Dream That Leads You to Success, It's the One You Decide to Make a Reality" 
stated Dickson Serrano, National Director with TLC
Determined to get a fresh start with the right company, Dickson was a Regional Director at TLC after just 5 months. Now, Dickson is a National Director and he has his hard work, determination and a positive mindset to thank for that.
"In order to achieve my dreams I knew I had to be surrounded by successful people — so having TLC Ambassador, Ana Cantera and Global Director José Gregorio Hernández as my mentors and to be sponsored by National Director Giselle Rojas, was a real blessing in my life," said Dickson.
Thanks to TLC, Dickson has been able to offer a Total Life Change to his three sons: Edickson Luis, Dismery and little Kenickson Leonardo. His mother, Elsa Divina, is the powerful engine that drives him everyday to give his best because 'if you work hard and focus on your goals,  nothing is impossible.'
About Total Life Changes
Total Life Changes (TLC) is a direct selling company offering a diverse product portfolio of health and wellness products. Founder and Chief Executive Officer Jack Fallon created TLC 16 years ago with a single product: NutraBurst®. Since that time, TLC has continued to develop weight loss and wellness products matched with an attractive hybrid binary compensation plan.
This allows Life Changers of TLC to be rewarded quickly for introducing new customers to its products and business opportunity. Find out why so many are saying, 'It really is different over here.' To get more information, facts and figures about Total Life Changes, click HERE for the Total Life Changes Business overview.