Norifumi Higashi From Japan and Steve Brown Achieve 1 Million Point Club At Bode Pro
July 1, 2019
By Team Business For Home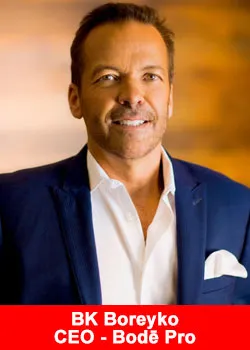 As Bodē Pro approaches its 2nd year anniversary celebration in Bali this October, a huge milestone was achieved by two of its top leaders.
Bodē Pro CEO BK Boreyko stated:
9 Star Influencer and #1 income earner from Japan, Norifumi Higashi and 8 Star Influencer from Texas, Steve Brown both enter the 1 Million Point Club!

It's incredible that these two amazing leaders on different sides of the planet can pull off such an impressive accomplishment!
Bodē Pro has also just completed its merger with sister company Vemma. 'The amount of work it took to merge a 14 year old company with over $1.5 billion in accumulated sales into a less than 2 year old start up was pretty incredible, but my amazing team pulled it off.' says Boreyko
'This places these legacy wellness products into a new environment where they can really continue to have a huge impact on consumer's health.

Now that the merger is complete, the new level of excitement from the field leaders makes me think we should have done this a long time ago.
It really gives them the advantage of offering a proven sales track record of clinically studied products combined with the excitement of a new, emerging wellness company. It's really the best of both worlds!
The merger allows Bodē Pro to introduce their 'Age Smarter' Pack. Boasting 8 clinical studies on critical health topics, including mitochondria health, C Reactive Protein and immune boosting levels, the Age Smarter Pack introduces customers to a whole new level of wellness.
With over $250 million in total sales, Verve also creates a new level of excitement as the first ever healthy energy drink also boasts 2 clinical studies making it the most clinically studied energy drink ever!
With the merger, comes a few enhancements to the Bodē Pro commission plan. 'The Gig economy has opened up massive opportunities to entrepreneurs. Uber, AirBnB, Amazon affiliates are some of the best known, attracting over 57 million people in the US alone to these 'side hustles' Says Boreyko,
'Expectations are that number will top 60 million next year! We wanted our Bodē Pro opportunity to be able to tap into this exploding market and we feel we hit that goal with these changes. There's millions of people looking for exactly what we can offer them!
The global reach of Bodē Pro in Asia continues to grow with the official Taiwan opening next month. This market is committed to helping people age smarter and that combined with a new survey stating that 71% of people in Asia desire to be business owners, the combination of smart aging and side hustles is perfect!
About Bode Pro 
Based on Scottsdale, AZ, this two year old wellness company brings an 'Age Smarter' philosophy to nutrition.
With its clinically tested products and Rewards Plan built for the exploding 'gig economy', Bode Pro is a start up company with an expanding international footprint that's just beginning to make a positive impact. Visit bodepro.com for more product information.