Thirty-One Gifts CEO Cindy Monroe Back On Track
July 27, 2019
By Team Business For Home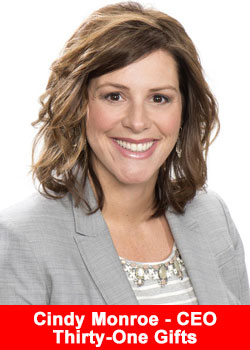 Your business should always be urgently chasing growth, because if you're not growing, you're at risk of failing, says Cindy Monroe, founder, president and CEO of Thirty-One Gifts.
She learned this firsthand when her direct-sales company's annual revenue peaked at $700 million around 2015. Then, revenue fell to around $400 million before stabilizing and flattening three years later.
During the high-growth years, it was such a struggle to get orders out the door that Monroe and the company's management team didn't spent time figuring out how to continue to grow. They weren't planning, and eventually that caught up to them.
"You have to be intentional about continuing to focus on the growth and not just reacting to it. That's what I would tell myself, if I could go back five years ago,"
she says.
The challenge, however, was also an opportunity to add efficiencies to the company's day-to-day operations and execution, in order to make it a better business today.
Monroe's recent adversity hasn't been limited to falling revenue. In February 2018, she learned the company's lease wasn't being renewed, which led to a decision to move fulfillment service to Texas, while keeping the corporate office in Columbus.
"We started immediately looking for what the next chapter of our home office would look like,"
she says.
"We looked at several cities. We looked at our building being together, our building being separate."
There weren't many facilities in Columbus that could support the size that Thirty-One needed. If the company had to separate fulfillment and corporate anyway, it made sense to look for a location out west to better serve and grow that market.
Again, an obstacle was turned into an opportunity.
Shepherding in change
Monroe says the company ultimately purchased Bob Evans' New Albany building to house 300 front office and call center employees, while leasing space to the Bob Evans restaurant team. (Bob Evans Farms, which sells frozen foods, built and moved to a new location.)
With the relocation of the fulfillment center, approximately 650 employees will eventually work out of Flower Mound, Texas, a suburb of Dallas. This is down from the 800 who worked in the Easton-area facility as a result of efficiencies gained from new equipment.
The change wasn't easy, and it included the cost of overlapping supervisors and building leases, as well as some tears, Monroe says.
"There were emotions, but you also show up in a leadership role and you cast your vision of where this company is going and the lives that it impacts every single day,"
she says.
Thirty-One held job fairs for the employees was letting go — and attracted so much interest that it had to turn some companies away.
"All of our employees are asking if they can come back and work our conference with us in the summertime," Monroe says. "They love working at Thirty-One, so it's kind of bittersweet, but most of them, no matter where the distribution center would be in Ohio, wouldn't have been able to make the move. A lot of them would have lost their jobs, whether it stayed in Ohio or Texas."
About 30 employees are relocating to Texas, which should help transplant the company's culture into the second location.
As first reported by: www.sbnonline.com
About Thirty-One Gifts
Founder, President & CEO Cindy Monroe started Thirty-One in her basement in 2003. From those humble beginnings we've grown into one of the most successful direct-selling businesses in the world, with more than 90,000 independent Sales Consultants across the U.S. and Canada.
Thirty-One Gifts is about so much more than just a bag. We are a family of individuals who share a passion for empowering women, and who are committed to celebrate, encourage and reward others for who they are.