WorldVentures Hosts BootCamp With 5,700 Attendees In Texas
July 26, 2019
By Team Business For Home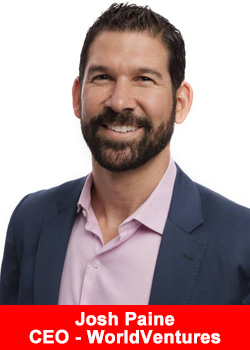 WorldVentures, the leading direct seller of global travel and leisure club memberships, drew 5,700 attendees to BootCamp a major training event held at the Star in Frisco, Texas, from July 19-21, 2019.
BootCamp brings WorldVentures Independent Representatives together from markets around the world to advance their skills, recognize their accomplishments and provide incomparable business training.
"Leadership is not about being bulletproof. It's about authenticity and commitment. At BootCamp, we teach Representatives how to take accountability and become purposeful leaders,"
CEO of WorldVentures Josh Paine said.
In addition to providing valuable information and training for Representatives, WorldVentures events positively impact local economies through increased hotel, dining and activity spending.
BootCamp's 5,700 attendees stayed an average of three nights for the event. According to Budget Your Trip, visitors to the Dallas/Fort Worth metroplex typically spend approximately $103 per person, per day, making a potential overall financial contribution of more than $1,761,300 to the economy in Frisco during the weekend of the event.
The Frisco event was preceded by volunteer efforts in the local community, held by the WorldVentures Foundation. On Friday, July 19, the WorldVentures Foundation presented a DreamStation to the Plano Boys & Girls Club, its sixth donation so far to ensure kids have internet access to further their education, research and learn new technology and online activities with the assistance of volunteers and club representatives.
DreamStations are mobile storage units that can secure and charge up to a dozen laptops or tablets at once. More than 34 WorldVentures Foundation volunteers were also on hand to renovate, paint, clean and beautify the club for the more than 200 kids who are involved in the program.
About WorldVentures
WorldVentures Marketing, LLC, a subsidiary of WorldVentures Holdings, LLC, is a privately held company based in Plano Texas. Together with its local affiliated companies operating in international markets, the company sells travel and lifestyle community memberships providing a diverse set of products and experiences. For more information, visit worldventures.com.
About WorldVentures Foundation
WorldVentures Foundation is a U.S. 501(c)3 nonprofit organization with a mission to create positive change in the lives of children all over the world. The foundation supports sustainable programs that promote children's health, happiness, safety and development. Represented by the Heart to Serve logo and tagline, the foundation's mission is accomplished through four main ways: VolunTours, Volunteer Days, Dream Courts® and fundraising. Learn more at worldventuresfoundation.org.
About Boys & Girls Clubs of America
For more than 150 years, Boys & Girls Clubs of America has enabled young people most in need to achieve great futures as productive, caring, responsible citizens. Today, 4,300 Clubs serve 4 million young people through Club membership and community outreach. Clubs are located in cities, towns, public housing and on Native lands throughout the country, and serve military families in Boys & Girls Clubs of America-affiliated Youth Centers on U.S. military installations worldwide.
They provide a safe place, caring adult mentors, fun and friendship, and high-impact youth development programs on a daily basis during critical non-school hours. Club programs promote academic success, good character and citizenship, and healthy lifestyles. In a Nielsen Survey of alumni, 54 percent said the Club saved their lives. National headquarters are located in Atlanta. Learn more at bgca.org, or by visiting the Boys & Girls Clubs of America's Facebook and Twitter.