Adam Ahmad from Jordan Achieves Blue Diamond Rank With Success Factory – Dagcoin
August 3, 2019
By Team Business For Home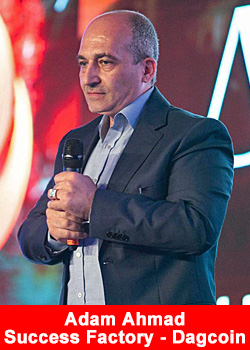 Success Factory held its most recent convention in Istanbul, Turkey. During that event there were several recognitions, among which the achievement of Adam Ahmad as Blue Diamond especially stands out.
Adam Ahmad is a member of the Eagles team, which, in turn, is part of the international team Success4All, founded and led by Igor E. Alberts and Andreea Cimbala.
"Success4All is the team that we the Eagles Team come from.

They are a group of extraordinary, top leaders in the network marketing industry, they know exactly what they are doing, and under their wise and efficient leadership, we are going to rock the world with our success together."
Adam Ahmad has been in the network marketing business for 4 years and before that, according to what he said during his testimony at the Istanbul event, he had created his own business in the traditional industry and failed, leading him to a very bad economic situation.
For Adam, discovering network marketing meant not only finding a vocation, but it was the industry that helped him get out of the drastic situation he was in. Being a man of entrepreneurial spirit willing to take risks and learning from failure, he had an open mind from the beginning in order to start up with a new business model.
"I was always attracted to all business models, but when I heard about the network marketing business model, I had this feeling that this was exactly what I was looking for.

What a great concept where your success depends on your partners' success, what else one can ask for? It is a new life, a new shape of a healthy structured community filled with success stories and dreams fulfilled."
Adam Ahmad adds that it was his results in Success Factory that really amazed him: just 10 months ago, he started working with the company, and the growth of his team has been, he says, much greater than he expected.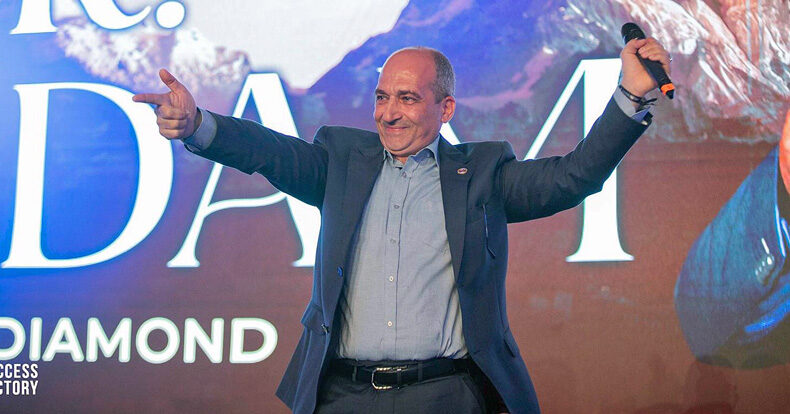 "One of my trusted friends invited me to hear about a new opportunity at the beginning of October, 2018. I was amazed by the compensation plan and the results that he shared with me about this company. I read more about it on your page, Business for Home, and at that time, I took my decision to join, and till now, I am doing my best and receive the best from Success Factory.
 I have created a team of 35,000 members in more than 20 countries in less than 8 months! Isn't it great?

I am also about to reach 140.000 euros of income, which is 1000 times as much as my primary capital when I joined Success Factory."
The figure mentioned, the 140.000 euros, also has a special meaning, taking into consideration the background story: Adam Ahmad is about to achieve in a single month the same amount that he initially invested in that past project that failed. But once that barrier is overcome, with bank accounts healthy and in better shape than ever, his enthusiasm for network marketing is in everything that this business model can offer.
"Network marketing is my first pleasure. I have found myself in this world. This world makes you a dreamer, and you can reach those dreams.

I would advise anyone to look for an opportunity where they offer financial freedom and free time to be able to see the happiness in the eyes of others who you take this opportunity to."
And finally, Adam Ahmad adds a few words of thanks to the people who helped him in this transformation:
"I am extremely grateful to many of the leaders who have had a great impact on my success. First of all, I would like to express an immense gratitude to Ahmad Rabaia, who was the real cause of the change in my life and the lives of thousands of people. Special thanks to our big leaders Mr. Igor Alberts and Mr. Iulian Cimbala, as well as to other top leaders of the Success4All team, wonderful Roald Mailly and inspiring Daniel Visser.
Not forgetting brilliant Andreea Cimbala and amazing Patricia Numan. Last but not least, the great creators of all of it, Mr. Kris Ress and Mr. Nils Grossberg, who I was delighted to finally meet in person at the latest event in Istanbul."
About Dagcoin
We believe that cryptocurrencies are here to be a step up from regular money. This means improving the speed of transactions while reducing the cost, giving access to money to more people with lesser restrictions and limitations, giving more freedom to transact.
And at the same time preventing fraud and illegal activities. Dagcoin was created to fulfil all of these criterias – to become a digital version of money that people can use all around the world. Our currency is meant for using. This means that in the future you will be able to do everything with dagcoins. That includes getting paid, going shopping, exchanging, taking loans, paying for services, travelling, and almost everything else that comes to your mind. For more information please visit www.dagcoin.org