Christi and Dave Vogt Achieve Elite Pro 7 Rank At LifeVantage
August 2, 2019
By Team Business For Home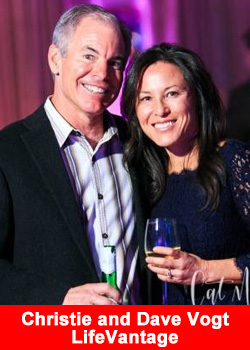 LifeVantage (Nasdaq:LFVN) has announced that Christie and Dave Vogt have earned the rank of Pro 7 — an achievement that now distinguishes the couple as Elite Distributors within the company.
"It's taken Christie and Dave less than five years to achieve something so monumental,"
said LifeVantage Chief Sales Officer Justin Rose.
"They haven't just accomplished something great — they've done it the right way and for the right reasons. We're so happy for them and excited to see what they accomplish next." 
Christie, who hails from Glenwood Springs, Colo., and Dave, originally from Troy, Ohio, met in Hawaii where Christie attended school and Dave served in the Navy. Prior to joining LifeVantage, Dave ran a digital advertising company while Christie ran an esthetic and anti-aging preventative medicine company.
After losing her business to a failed partnership and approaching the age of 50 with no retirement savings, Christie needed a new opportunity with a company that aligned with her philosophy on health and what her customers were looking for. She found it in LifeVantage.
"The timing, the product, the culture, being publicly traded — for us, LifeVantage checked all the boxes,"
Christie said.
The Vogts joined LifeVantage in 2015, rising through the leadership ranks despite initially struggling to get their business off the ground.
"With Christie's background in health and mine in sales, we thought we'd absolutely kill it,"
Dave said.
"But within three months we had blown through everything we had. Zero customers, zero distributors, nothing. It wasn't until we started following a system and attended our first meeting that things started really taking off."  
"To be able to travel, work from our cell phones, and spend time with our family whenever we want has completely changed our lives. And we're so grateful for it," Christie said.
The Vogts currently reside in Grand Junction, Colo., when they're not visiting their four children and three grandchildren or traveling the world.
About LifeVantage
LifeVantage Corporation (Nasdaq: LFVN) is a pioneer in Nutrigenomics – a new science dedicated to biohacking the human aging code.
The Company engages in the identification, research, development, and distribution of advanced nutrigenomic dietary supplements and skin and hair care products, including its scientifically-validated Protandim® product line, Omega+ and ProBio dietary supplements, its TrueScience® line of Nrf2-infused skin and hair care products, Petandim™ for Dogs, Axio® Smart Energy Drink mixes, and the PhysIQ™ Smart Weight Management System.
LifeVantage was founded in 2003 and is headquartered in Salt Lake City, Utah. For more information, visit www.lifevantage.com.
*Distributor success depends on individual diligence, work effort, and market conditions. LifeVantage does not guarantee any income or rank success. For the company's Average Annual Earnings Disclosure by rank, visit lifevantage.com.