Dr. Marie Evans Joins Total Life Changes and Spreads Wellness in South Texas
August 23, 2019
By Nicole Dunkley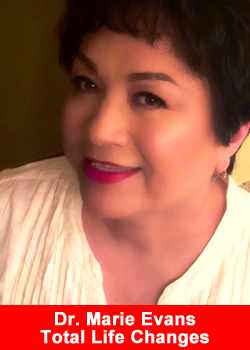 As a Director of Educational Technologies, Dr. Marie Evans is dedicated to education and is always seeking new knowledge and experiences. After joining the direct sales and multilevel marketing (MLM) industry in September of 2018 with her daughter, Lanie Evans, she fell in love right away.
From the camaraderie to getting the opportunity to help friends and family to be able to build a secondary income, joining TLC was a no-brainer.
"Joining TLC was a simple decision. We wanted to find products that were cost-effective and provided the maximum health value for the population in South Texas. We live in a tea culture…so it is very easy to promote."
Her immediate goals are to help people in her area to improve their health and wellness. She believes that the future is in helping the community with TLC's products and she finds it so easy to talk about them.
The process has been so easy.  Even when we are out eating dinner or lunch, the topic comes up so easily.  Recently, we even sold to our waitress and later, her family! We are planning to participate in some community events to share our products and continue the sampling culture.
Marie not only spreads wellness, but she has also tried TLC products for herself. She loves the Iaso Tea and claims it helped get rid of bloat and inflammation. She also loves the Instant Tea as well as the Resolution Drops.
"After taking the product for 3 weeks, I lost 9 pounds and experienced increased energy! My husband and I also take NutraBurst and NRG as part of our daily routine to keep us feeling good and energized," said Marie.
They also use Harmony Drops before bed for a good night's sleep. As a former athlete and coach, her husband has a lot of aches and pains. Alleviate has really helped his hands, and he is currently trying the Stem Sense to see if it helps with other areas.
Marie hopes to build her business and earn the rank of Director in 60-90 days, but she hopes it will happen sooner.
"This side-gig is really self-propelling and tends to take on a life of its own. Finding a balance between my career and TLC is the answer! The sky's the limit!" said Marie.
About Total Life Changes 
Total Life Changes (TLC) is a direct selling company offering a diverse product portfolio of health and wellness products. Founder and Chief Executive Officer Jack Fallon created TLC 16 years ago with a single product: NutraBurst®. Since that time, TLC has continued to develop weight loss and wellness products matched with an attractive hybrid binary compensation plan. This allows Life Changers of TLC to be rewarded quickly for introducing new customers to its products and business opportunity. Find out why so many are saying, 'It really is different over here.'