Emotions Flourish Amongst Thousands of Life Changers at Ecuador Event
August 28, 2019
By Nicole Dunkley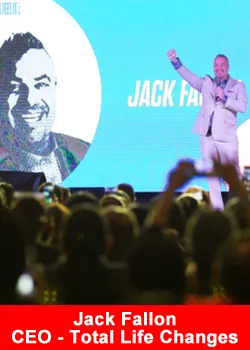 Total Life Changes continues to "give more than what is expected." Leading with one of its seven corporate core values, CEO and Founder Jack Fallon hosts an incredible event in Guayaquil, Ecuador. Standing before thousands of guests, Jack explains TLC's mission and vision for 2020 and beyond.
Jack Fallon addressed the guests in Guayaquil with a heartfelt message:
We are all human beings that are connected by mind, body, and spirit. Total Life Changes is for anyone from anywhere in the world. You are in the right place at the right time. We have incredible momentum right now. Very soon we will be expanding our business opportunity into Hong Kong, Russia, and Australia. We have so many incredible Life Changers, just like all of you here today that are committed to making a difference in someone's life. That is our true goal as a company. To impact as many lives as possible. Through our products.

Through our business opportunity, and really just as human beings that treat others with respect and kindness and expect the same in return. To make a real emotional connection with each other. It doesn't matter what languge you speak, what culture you come from. We will never discriminate anyone based on race, gender, or religion. If you agree with our seven core values than you have a place with Total Life Changes forever.
The long-anticipated International "You'll Feel It" event arrived in Latin America August 16-17, 2019. Guayaquil was the city selecgted for this magnificent event. The energy of TLC's independent representatives, called Life Changers was infectious.
Friday has become a celebration of its own for TLC, coining the phrase "Fun Friday," a Facebook Live broadcast hosted in English and Spanish. As expected, the event was officially kicked off with the Spanish edition of Fun Friday, or "Viernes Divertido" @ TLCHQ Espanol on Facebook. It was a very colorful episode where the CEO took a chiva dance-party bus ride with many TLC Life Changers from Ecuador, Peru and Colombia.
It was a mobile party with contests and prizes. Following the Facebook Live guests lined up to take pictures with Jack Fallon, his son Drew Fallon, Bolivar Enriquez, Paula Serna, Cynthia Acuña and other members of this incredible global staff.
Friday's festivities continued into the night with an emotionally driven cocktail reception where the attendees danced and shared their experience in social medai using the hashtag #SienteLaEnergiaTLC.
The main event began on Saturday, August 17, 2019. Special guest and TLC Life Changer from Ecuador, Jessica Sánchez and TLC's Manger of Operations from Colombia, Paula Serna kicked Saturday's event welcoming guests and preparing them for an afternoon of training from TLC Ambassador Ana Cantera, Global Director Christian Prada, and more.
The audience was captivated by amazing success stories from National Directors Fermín Vera and Belen Villao, Giovanna Muñoz and Leonardo Villon. Guests were met with every emotion humanaly possible. Guests felt a powerful message from Sara Gonzales and Derlis Ramoa of Paraguay and the event concluded with the announcement of a car giveaway during the October event in Bogota, Colombia.
About Total Life Changes 
Total Life Changes (TLC) is a direct selling company offering a diverse product portfolio of health and wellness products. Founder and Chief Executive Officer Jack Fallon created TLC 16 years ago with a single product: NutraBurst®. Since that time, TLC has continued to develop weight loss and wellness products matched with an attractive hybrid binary compensation plan. This allows Life Changers of TLC to be rewarded quickly for introducing new customers to its products and business opportunity. Find out why so many are saying, 'It really is different over here.'