Global Directors Fermin and Belen Vera Make Total Life Changes in Ecuador
August 12, 2019
By Nicole Dunkley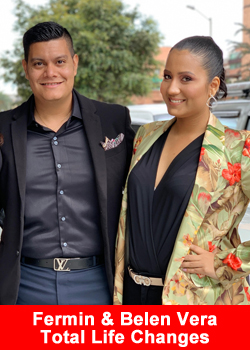 As parents and hardworking individuals of Guayaquil, Ecuador, Fermin and Belen understand what it takes to build a business and make total life changes.
Prior to May 2015, Fermin and Belen found themselves in a difficult financial situation with personal and family debts, so they started searching for opportunities to get ahead.
Luckily, in May 2015, their sponsor and TLC Ambassador, Ana Cantera, sent them information about Total Life Changes and they were instantly hooked on the idea and opportunity in multi-level marketing.
TLC ́s sustainable compensation plan is one of the reasons they decided to join. They were also attracted to the company's family environment because they love the idea of everyone sharing and supporting each other.
"With this opportunity, you can become a better person every day and you can give your family everything you dreamed," said Belen.
The MLM industry wasn't such an easy go at first. While Fermin and Belen were very excited to start their business, they knew this was their opportunity to get them where they wanted to be, so they decided to schedule their first home meeting. They set up chairs, spread out tables with products, and even displayed audiovisual materials, yet no one showed up.
Fermin and Belen believe in TLC so much, they didn't let that stop them. They continued to focus on their business and making total life changes. Now, they have hundreds of people on their team, as well as clients with weight loss and financial testimonies.
Both Fermin and Belen lost weight with the Iaso® Tea and Resolution drops (30 and 40 pounds respectively) but they also love Café Delgada since it gives them immediate energy without altering their nervous system and prevents them from gaining weight.
By making total life changes, they have not only helped themselves, but they've also helped so many families change their reality. In fact, they have even helped fellow Life Changer Giovanna Muñoz achieve a National Director status within 3 years.
"With TLC, you can positively impact the life of each person on your team by helping them see their own light, which can help illuminate the rest of the people," said Fermin.
Together, Fermin and Belen plan to make TLC the number #1 MLM company in their country, Ecuador and help TLC become the top-selling MLM worldwide.
 About Total Life Changes
Total Life Changes (TLC) is a direct selling company offering a diverse product portfolio of health and wellness products. Founder and Chief Executive Officer Jack Fallon created TLC 16 years ago with a single product: NutraBurst®. Since that time, TLC has continued to develop weight loss and wellness products matched with an attractive hybrid binary compensation plan. This allows Life Changers of TLC to be rewarded quickly for introducing new customers to its products and business opportunity. Find out why so many are saying, 'It really is different over here.'