Nu Skin Q2 Revenue 11% Down To $623.5 Million
August 7, 2019
By Team Business For Home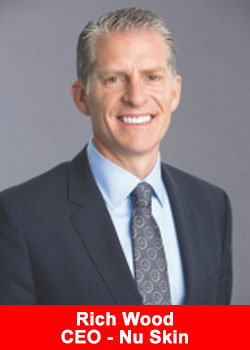 Nu Skin Enterprises, Inc. (NYSE: NUS) today announced second-quarter 2019 results.
Executive Summary

Q2 2019 vs. Prior-Year Quarter

$623.5 million; (11%)
(4%) fx impact or ($31 M)

Earnings Per Share (EPS):
"As previously announced, our second-quarter results were negatively impacted by limited sales meetings, media scrutiny and consumer sentiment in Mainland China in connection with the recently completed 100-day review of the nutrition and direct sales industries,"
said Ritch Wood, chief executive officer.
"Outside of Mainland China, most of our other markets performed in-line with expectations. Our customer numbers remained steady as we continued our customer-focused initiatives globally, while sales leaders declined 14 percent, primarily due to Mainland China."
Q2 2019 Year-Over-Year Operating Results

$623.5 million compared to $704.2 million
(4%) fx impact or ($31 M)

75.3% compared to 76.1%
Higher percentage of manufacturing revenue
Nu Skin business was 77.8% compared to 77.9%
Impacted by fx, offset by cost savings

39.4% of revenue compared to 38.7%
Nu Skin business was 41.5%

24.0% of revenue compared to 25.6%

Other Income / (Expense):

($3.3) million compared to ($11.2) million
"We remain committed to our long-term growth strategy focused on attracting and retaining customers, and are confident that, despite recent external factors, we are moving in the right direction,"
said Wood.
"We are encouraged by the resumption of some sales leader meetings in key areas of Mainland China. We remain optimistic about our opportunities with several key initiatives slated for the back half of the year around our Nu Skin LIVE global sales conference. A

dditionally, we will roll-out our new and improved Galvanic Spa beginning in September, which we believe will help drive global revenue. Finally, we are encouraged with the steady sales growth of our manufacturing platform, which we intend to continue to leverage moving forward."
Mark Lawrence, chief financial officer, added, "Consistent with the guidance provided on July 16, we anticipate annual revenue in the $2.48 to $2.52 billion range, with an approximate 3 to 4 percent unfavorable foreign currency impact, and earnings per share of $3.20 to $3.35. For the third quarter, we project revenue of $595 to $615 million, with an approximate 2 percent negative foreign currency impact, and earnings per share of $0.74 to $0.81."
About Nu Skin
Founded 35 years ago, Nu Skin develops and distributes innovative consumer products, offering a comprehensive line of premium-quality beauty and wellness solutions. The company builds upon its scientific expertise in both skin care and nutrition to continually develop innovative product brands that include the Nu Skin® personal care brand, the Pharmanex® nutrition brand, and most recently, the ageLOC® anti-aging brand.
The ageLOC brand has generated a loyal following for such products as the ageLOC LumiSpa skin cleansing and treatment device, ageLOC Youth nutritional supplement, the ageLOC Me® customized skin care system, as well as the ageLOC TR90® weight management and body shaping system. Nu Skin sells its products through a global network of sales leaders in Asia, the Americas, Europe, Africa and the Pacific.
As a long-standing member of direct selling associations globally, Nu Skin is committed to the industry's consumer guidelines that protect and support those who sell and purchase its products through the direct selling channel. Nu Skin International is a wholly owned subsidiary of Nu Skin Enterprises, Inc., which is traded on the New York Stock Exchangeunder the symbol (NYSE: NUS). More information is available at nuskin.com.