Total Life Changes Introduces New Onboarding System in Washington DC
August 5, 2019
By Team Business For Home International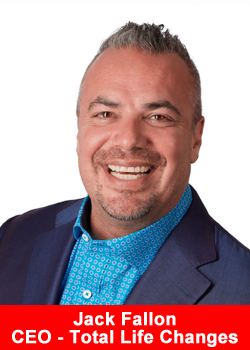 Total Life Changes hosted its You'll Feel It Tour in the DMV area at the Live! Casino & Hotel.  The goal of the tour is to inspire, encourage and recognize everyone's commitment to improving their health, exposing people to these impactful products, and have them mentally commit to a life-changing goal! TLC's corporate leadership was especially excited for this event as it was poised to announce and launch a brand new International Onboarding System.
Founder and CEO of Total Life Changes, Jack Fallon explains:
I knew we had something that our sales force was truly going to enjoy. And the beautiful thing about the announcement of our all-new Life Changer Business Starter Kits is that they are available internationally in three different languages (English, French, & Spanish) and we will be continuing to add more and more languages.
This is truly a one-of-a-kind duplicatable onboarding system that is going to be effective in every one of our global markets. It's simple to understand and it's actionable. What I mean is that it requires new business partners to take ownership of their business. Not only does the packaging look incredible, but it's also the process of using the tools that are available in digital or physical format. I am excited for our new and existing Life Changers to take advantage of this new process of personal development, accountability, and launching their business, literally within minutes of joining by using an App to send product samples to potential customers.
The weekend festivities kicked off on Thursday, July 18th, with a live weekly broadcast called "Tea Talk". Tea Talk discusses TLC's flagship product since 2008, the Original Iaso® detox and cleansing tea. Voted the #1 global direct selling product in 2015, it continues to lead company sales and ships to over 150 countries. Tea Talk is a fast-paced Online webinar hosted @TLCHQ Facebook and highlights the ingredients, benefits, real results and more every Thursday evening at 7 pm EST.
Total Life Changes has been partnering with local charities and foundations throughout the You'll Feel It Tour. At the DMV event, TLC partnered with TurnAround Inc., to honor a family member of Life Changer, Tiana Cabrera, who recently lost their life to domestic violence.  TurnAround Inc. provides support to survivors of domestic violence, sexual assault, and sex trafficking.  Together with the TLC community, the company raised over six thousand dollars for TurnAround Inc.
Friday's events began with the World Famous "Fun Friday," which is broadcasted live every Friday at 2:00 pm EST on Facebook @TLCHQ.  The TLC corporate staff celebrates accomplishments, hosts games, giveaways, and most importantly, has a lot of FUN!  The evening continued with training from Chief Operating Officer, John Licari, and Executive Ambassadors, Greg and Lenika Scott.
Guests listened as several Life Changers (independent representatives) explained how they built successful organizations, their personal product testimonies, and perhaps most importantly, what they are able to know as a result of their success in partnering with Total Life Changes.
John Licari provided training of TLC's Family System, a natural progression of allowing potential customers to try product samples before they consider buying. TLC maintains a firm belief that consumers will "feel" its products and get real results quickly, leading to so many "sample" customers buying a one-month supply for continued lasting results. Following the training sessions, guests were treated to a mix and mingle reception with the TLC corporate staff.
The highlight of the weekend came Saturday morning when the children of TLC's Life Changers kicked off the main event.  Full of smiles, energy, and tons of enthusiasm, the talented children danced their way to the stage and got the crowd excited for the day.  As the show opened, TLC's independent representatives, called Life Changers, and their guests were treated to some exclusive deals and training opportunities.
Corporate staff and leadership explained TLC's top five products and the benefits of becoming a preferred customer or a brand-new Life Changer. The event continued with live impromptu weight loss testimonies, success stories and the life-changing testimonies of current TLC Life Changers that had won the "Total Transformation Contest."
The Transformation contest winners were Jason Burdine, Yulonda James, and Linda Farmer. These amazing individuals shared their stories on how Total Life Changes impacted their lives physically, mentally, spiritually, financially and emotionally.   A passionate Linda Farmer proclaimed, 'These products are more than weight loss products. They give hope to the hopeless and help those who are lost find themselves again.'  She went on to say 'My goal now is to help others find their hope and get to the place I am in.'
About Total Life Changes
Total Life Changes (TLC) is a direct selling company offering a diverse product portfolio of health and wellness products. Founder and Chief Executive Officer Jack Fallon created TLC 16 years ago with a single product: NutraBurst®. Since that time, TLC has continued to develop weight loss and wellness products matched with an attractive hybrid binary compensation plan.