Total Life Changes Launches The G5 Challenge
August 18, 2019
By Nicole Dunkley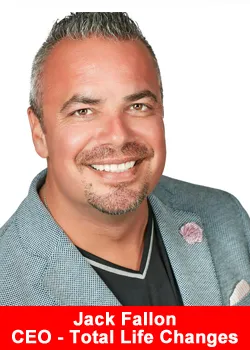 Total Life Changes (TLC) celebrates Christmas early this year with a worldwide sale and two initiatives seeking its strongest third quarter in the company's sixteen-year history.
TLC celebrated Christmas in July on Wednesday, July 31, 2019, with a 24-hour worldwide promotion in over 15 countries resulting in its highest one-day sales for the month of July. This excitement was felt by Total Life Changes' employees, customers, and Independent Representative (Life Changers) all around the world. TLC Founder and CEO Jack Fallon explained further:
I truly just want to clarify the purpose of this promotion. If you didn't know any better or maybe don't understand the culture of TLC, it would just look like one huge hype-driven sale. But it was so much more meaningful than that. For twenty-four hours every employee, every customer, and every Life Changer around the world was connected, excited, engaged, and part of something bigger than a sale.
Following its Christmas in July sale, Chief Operating Officer John Licari waited patiently for forty-eight hours to announce two brand-new worldwide initiatives. TLC officially launched the G5 Challenge and a Worldwide Rank Run on Friday, August 2, 2019. Licari discusses his excitement for these two initiatives:
Jack Fallon has been challenging our core team to find meaningful ways to maintain our momentum and continue to reinvent ourselves. We've accomplished a lot this year already; re-branding over twenty products, updating business tools in over four languages, hosting regional and international events every month, and more. But I am certainly very excited about our next two announcements. The G5 Challenge is a permanent thirty-day program for our salesforce to acquire five customers in their first thirty days of business.

The Worldwide Rank Run is our second initiative for new and existing Life Changers to reach one of three new ranks by August 29, 2019. Currently, when a Life Changers reaches the rank of Apprentice they would receive one-hundred sample credits, enough to send twenty physical samples from the TLC 5in5 App. We will now reward new Apprentices with an additional fifty credits. Brand-new Directors will receive $100, and we are doubling our rewards for those that qualify as Rising Stars, for a total of $400 in bonuses.
The G5 Challenge started on August 2, 2019. This is a worldwide program seeking to reward behavior. Any brand-new Life Changer that inspires a minimum of five customers to purchase a product in their first thirty days of joining will receive $50, five Iaso® Instant Tea samples, five NRG dietary supplement samples, a recognition letter, and a custom G5 pin.
The philosophy behind this program is to teach and reward new Life Changers for attracting customers. In doing so, they will accomplish several things. TLC's Chief Communication Officer Scott Bania explains this further:
Our goal for the G5 Challenge is to help new Life Changers find success in their first thirty days of business. When they acquire five new customers they will earn about $100 in retail commissions, which is the typical cost of joining Total Life Changes (product purchase and a Business Starter Kit). So at that point, they have 'broken even'.
When Life Changers meet the requirements of the G5 Challenge, TLC will reward them with an additional $50, meaning they will have earned back their initial investment and have received a minimum of $50 in their first thirty days or less. We believe that this program will not only incentivize our salesforce to meet the challenge but also provide the kind of behavior that is typically necessary for building a responsible organization of customers and business partners for long-term success.
About Total Life Changes
Total Life Changes offers a diverse product portfolio of health, wellness and beauty products. Founder and Tea Executive Officer Jack Fallon created TLC over 16 years ago with a single product: NutraBurst®. Since that time, TLC has continued to develop weight loss and wellness products to include a diverse product portfolio matched with an attractive hybrid binary compensation plan. This allows Life Changers of TLC to be rewarded quickly for introducing new customers to its products and business opportunities. Find out why so many are saying, "It really is different over here."