AIM Global Empowers 15,000 Distributors With AIMPowerYourFuture Event
September 17, 2019
By Thibauld Nuyten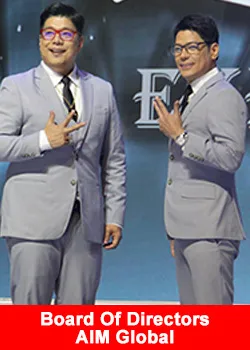 'AIM Power Your Future' was the bannered theme for MLM-Direct Sales giant Alliance In Motion Global's Silver & Gold Executive Night event held last August 11, 2019 at the SM Mall of Asia Arena.
15,000 AIM Global leaders and members witnessed electrifying performances from talented guest performers, inspiring commencement of the new Silver and Gold executives, empowering speeches of guest sharers and the words of wisdom of AIM Global's very own the MLM-Direct sales icons.
The company's Board of Directors Chief Executive Officer & Visionary President Dr. Ed Cabantog, Chief Marketing Officer Mr. John Asperin, Director of International Affairs & ALIVE Foundation Chairperson Dr. Connie Cabantog graced the event together with Company Vice Presidents Mr. Jurgen Gonzales and Mr. Arnel Limpin.
The event started with the award-winning hip-hop dance crew UPeepz showcasing their world-class talent to the massive crowd of that led them to the global stage.
Vice President for Training and Network Development Mr. Arnel Limpin & VP for Business Development Engr. Jurgen Gonzales warmly welcomed the crowd and led one of their favourite traditions in all of our big events, the awe-inspiring AIM Global crowd wave.
"Power is not just about responsibility, it's about taking ownership."
stated Chief Marketing Officer Mr. John Asperin.
Chief Marketing Officer Mr. John Asperin aka "Mr. Excitement" tells the crowd that winning in life is having the will to do it and to have a burning passion for success. It will not be easy; it will test your will and determination. He summed it up with
"It's when people around you have already given up, even if all have lost their faith, you'd still keep on going!"
Global Ambassadors Miss Maridel Abansado and Dr. Jing Baladad, a medical professional, shared their testimonies on how they overcame the battle on their health issues.  With the help of AIM Global's flagship product C24/7 and their other world-class food supplement products, both joined the company because of the health benefits of the products. For Dr. Baladad, AIM Global products did wonders to his health, his families' and his patients. The company truly helped change their lives for the better.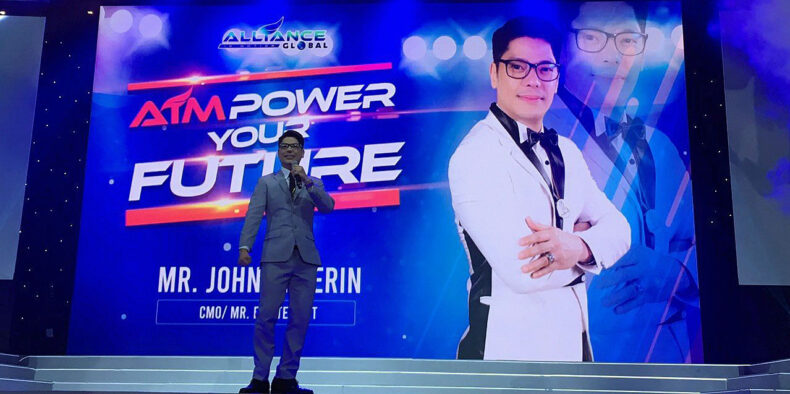 Members of the Millionaires Circle Miss Mae Guillermo and Mr. Nestor Gonzaga also gave inspiring speeches about the contrasts of their lives before joining AIM Global and to where they are now. Their rags-to-riches stories truly inspired everyone in the audience to dream bigger dreams and to be empowered to work harder than ever.
From struggling to survive everyday to owning multiple houses, driving luxury cars, managing successful businesses and travelling all over the world, they have gained all these because of their hard work and determination to achieve their biggest dreams and goals.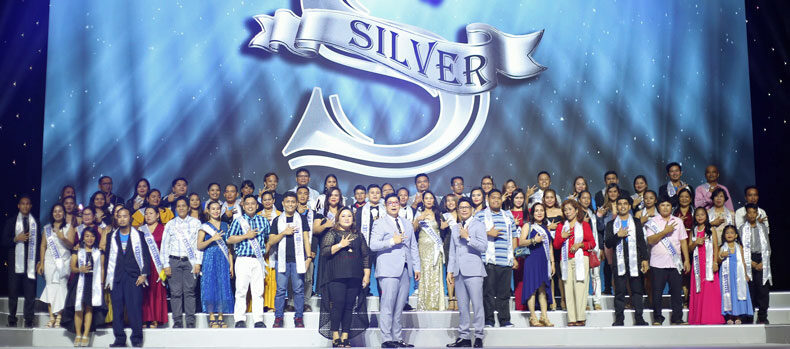 And representing the Generation Z, Miss Juna Jean Cosmo, a senior year graduate, showed that she is a living testament and clearly born for the MLM-Direct Sales industry.
To inspire the new members, the young generation of network marketers and to motivate the seasoned distributors, AIM Global gave recognition to the hard-working top leaders of the company – 4,000 Silver Executives, 800 Gold Executives awardees.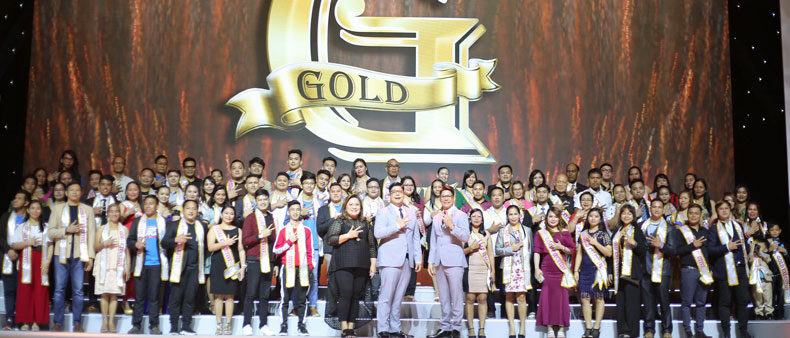 Popular Filipino actress Miss Ivana Alawi set the stage on fire with her sizzling song and dance number while award-winning actor-singer Mr. Jericho Rosales serenaded the mammoth crowd of 15,000. Their performances left them screaming with excitement after watching these celebrities onstage.
"You don't get what you wish for; you don't even get what you hope for. You get what you BELIEVE."
stated  Chief Executive Officer & Visionary President Dr. Ed Cabantog.
Chief Executive Officer & Visionary President Dr. Ed Cabantog announced new company updates to keep the momentum going – the promos to herald  the new version of iPro-tect 24/7 from the Enerchi-Life product line, the company's new package, Pro-Millionaires Pack and its wonderful "PMP Madness" it created in Mindanao, and the newly opened international branch at the 20th country AIM Global has successfully conquered, the Solomon Islands.
The Visionary President  proudly announced that the company has already acquired the registration from the Zambia Medicines Regulatory Authority for Nature's Way products (RestorLyf, C24/7, Complete, and Choleduz). The international branch in Zambia is expected to open very soon as well as in the country of Fiji.
New top travel destinations were unfolded for AIM Travels.  Qualified top distributors are expected to travel in the coming months to see and experience the majestic beaches in Bali, Indonesia, the culturally-rich city of Bangkok, Thailand, the historical city of Hanoi, Vietnam, and the wonderful country of Taiwan.
Dr. Cabantog advised everyone to be on the look-out for more news in the next months for there will be more exciting surprises in store for the last quarter of the year to keep the company's increasing momentum going.
To cap off the night, he gave a message of solidarity that warmed everyone's hearts.
"Every time you see me, I come as one but I stand as 10,000. 10,000 people! 10,000 dreams. 10,000 families. 10,000 hopes. 10,000 beliefs. 10,000 systems. 10,000 knowing, intending and loving. 10,000 brothers and sisters. 10,000 fathers. 10,000 mothers. 10,000 sons and daughters.
Cheering you up, praying for you, praying for all of our dreams to come true. We are your power!
ABOUT AIM GLOBAL
Founded by Network Marketing icons Raymond "John" Asperin, Engr. Francis Miguel and Dr. Eduardo Cabantog in 2006, Alliance In Motion Global (AIM GLOBAL) is the leading direct sales network marketing company in the Philippines. The company markets and distributes top of the line Nutraceutical supplements, weight loss wellness products, personal care and skincare products, functional beverages and premium lifestyle products.
The company is a proud member of MLMIA (Multi-Level Marketing International Association) in USA, founding member of Direct Selling Association in Pakistan (DSAP) and Direct Selling Education Institute (DSEI) of Dubai, UAE.
AIM Global has 130 business center offices in the Philippines and has global offices in 20 countries namely Hong Kong, Singapore, Taiwan, Brunei, Papua New Guinea, UAE, Bahrain, Kuwait, Pakistan, Nigeria, Ghana, Kenya, Uganda, Togo, Ivory Coast, Cameroon, Tanzania, Rwanda, and the Solomon Islands.
AIM Global is categorized as "+AAA" business opportunity, Top 100 Solid MLM Direct Sales Company 2018-2019, Top 10 Momentum Direct Selling Companies 2018-2019, Founder/Director/CEO and Visionary President Dr. Eduardo Cabantog as one of the Ambassadors of Network Marketing – Hall of Fame 2018 by Business For Home, top awardee in the Direct Sales category of Asia Pacific Entrepreneurship Awards 2017 and winner at the International Innovation Award 2018 for its revolutionary Daily Payout System.