Nick Sarnicola Named As President Marijuana Company Curaleaf Holdings
September 25, 2019
By Team Business For Home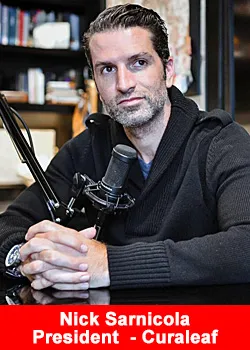 Nick Sarnicola, Select's new president, has also long been a top executive and CEO of a Michigan company called ViSalus, which sells protein powder and vitamins for weight-loss shakes.
ViSalus has been plagued for years by accusations that it operated a "pyramid scheme" and has reached legal settlements over allegations the company enriched Sarnicola and other executives at the expense of an army of distributors who paid to distribute its products.
ViSalus' former director of security pleaded guilty in 2015 to hacking into competitors' computers and ViSalus settled a related civil suit that accused Sarnicola of directing the attacks.
Earlier this year a federal jury in Oregon hit ViSalus with a whopping $925 million judgement for making nearly 2 million illegal robocalls peddling its products. ViSalus is contesting the judgement.
The Portland marijuana company appears to use the Cura and Select names interchangeably in corporate matters.
It did not announce its decision to hire Sarnicola as president and it hasn't been previously reported. An internal organizational chart obtained by The Oregonian/OregonLive shows his title and a Select executive confirmed Sarnicola has been with the company for about six months.
Public relations director Jordon Rahmil declined to comment on Sarnicola's hiring and the company didn't respond to requests for an interview with Sarnicola. Attorneys who represented ViSalus and Sarnicola in various lawsuits did not respond to repeated messages seeking their response to the litigation and settlements.
However, Rich Pala, Select's senior director of business development, said Sarnicola joined the Portland company months ago. Pala describes himself online as a top ViSalus promoter and said he has known Sarnicola for two decades.
There are several overlapping connections between ViSalus and Select. In addition to Sarnicola and Pala, Select CEO Cameron Forni interned at the protein powder company and a Cura board member is a ViSalus director and financial backer.
At a company still trying to establish itself, in an industry beset by regulatory uncertainty, Select leaders are deepening their ties to ViSalus – a company with a history nearly as tortured as its own.
In a phone interview, though, Pala dismissed the years of litigation against ViSalus and Sarnicola, noting that nearly all those cases have been resolved. He said Select's new president brings valuable experience in sales and internal business management.
"It's all part of the show," Pala said. "Name me a company that doesn't have haters."
Pivotal time for industry
Sarnicola arrives at a crucial moment for the Portland firm, which is in the process of selling its recreational marijuana business to a Massachusetts company called Curaleaf. The blockbuster all-stock deal, initially valued at roughly $1 billion, will create one of the world's biggest companies in the legal marijuana industry.
Curaleaf is counting on the Select acquisition, and another pending deal, to help produce a massive leap in revenue. Curaleaf reported less than $80 million in sales last year but forecasts more than $1 billion in revenue during 2020.
Backed by a Russian billionaire and by an investment banker who made a fortune privatizing Soviet state-run industries, Curaleaf hopes to be one of the big winners as the cannabis market consolidates.
Regulatory uncertainty casts a cloud over the future of legal marijuana products and have helped drive down the value of Curaleaf's all-stock acquisition of Select by more than $180 million since the companies announced their deal in May.
Though 11 states have legalized recreational marijuana, cannabis remains illegal on the federal level. Federal law allows sale of CBD, a marijuana product without psychoactive effects, but the Food and Drug Administration has warned it will act against Curaleaf and other companies that continue making unsubstantiated claims about the products' medical benefits. Curaleaf said it will comply with the directive.
Amid those pressures, the legal marijuana market is increasingly competitive. Companies in states with legal marijuana markets are consolidating rapidly as the recreational market matures and the players jockey for a winning position.
Industry market data obtained by The Oregonian/OregonLive illustrates those pressures.
In its largest market, California, data from industry research firm BDS Analytics show sales of Select Oil rose sharply last year – from $3.5 million in January 2018 to $16.7 million in December.
But sales fell steeply beginning in January and the rate of decline compared to 2018 increased as the year went on.
As first reported by Oregonlive.com