QuiAri Is Launching In October In 200 Countries
September 17, 2019
By Team Business For Home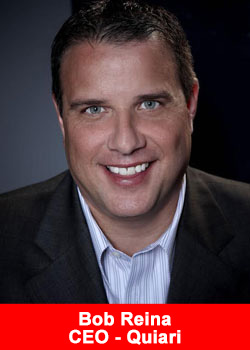 QuiAri, a new global health and wellness company, is preparing to shake up the entire industry with exclusive, breakthrough products the world has never seen before.
The company launches October 1, 2019 in over 200 countries and offers an opportunity for people to energize their health and wealth.
'Our mission at QuiAri is to provide life-changing opportunities that empower people to feel their best, so they can live their best,"
stated CEO and Founder, Bob Reina.
Bob has assembled an impressive management and support team with over 100 years of industry experience to help build QuiAri. From multi-talented Emmy award-winning videographers, famous photographers, world-class graphic designers, I.T. gurus, and an unbeatable customer service team, there is no doubt that QuiAri is positioned for success.
The secret ingredient that's creating all of the buzz is the maqui berry, the world's new number one superfruit.

Maqui delivers up to 5 times more antioxidant power than any other previously known super-fruit  You can only find the maqui berry deep in the pristine mountains of Chile's Patagonian region.
Bob teamed up with the world's leading maqui berry expert, Dr. Juan Hancke, to take the power of the berry to the next level. They developed MaquiX™, an exclusive super-concentrated organic extract that boosts the power of maqui even further.
Not found anywhere else, MaquiX™ is featured in QuiAri's delicious chocolate and vanilla shakes (QuiAri Shake) and nutritious energy supplement (QuiAri Energy).
Try. Love. Share.™ is the company tagline for a reason.
Bob is confident that people who try QuiAri's products are going to love them and want to share them with others. He plans to launch the brand with a 90-Day Kickstart Challenge, a two-step lifestyle change that helps people look and feel better fast.
"My ultimate goal is to help as many people as possible improve their health and wealth. Our Promoters have the opportunity to share our amazing products and get Same Day Pay.

Nobody else in the health and wellness industry pays their commission within 5 minutes of each sale,"
stated Bob Reina.
In addition to Same Day Pay, QuiAri plans to roll out a world-class compensation plan that is unlike anything the industry has ever seen before. Promoters will have the opportunity to earn speed bonuses, lifestyle bonuses, and more.
"The demand for our products has been overwhelming. It's wonderful to see both Customers and Promoters equally energized about our products. I have no doubt QuiAri will be the next multi-billion-dollar brand."
said Bob Reina.
About QuiAri
QuiAri provides life-changing opportunities that empower people to feel their best so they can live their best. Their breakthrough health and wellness products are made from an exclusive extract of the maqui berry, the world's new number 1 superfruit.
Plus, QuiAri offers opportunities to receive Same Day Pay just by sharing our products with others. Try. Love. Share!  For more information, visit www.QuiAri.com, or follow them on social media @QuiAriOfficial.
*These statements have not been evaluated by the Food and Drug Administration. These products are not intended to diagnose, treat, cure or prevent any disease.