Santiago Rozo From Colombia Achieves Diamond Rank At OmegaPro
September 9, 2019
By Team Business For Home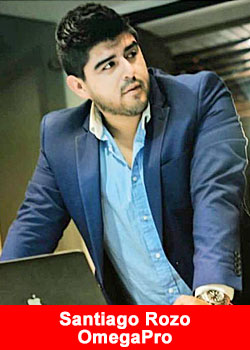 Colombian entrepreneur Santiago Rozo  achieves Diamond rank with Omegapro, the leading direct sales company of digital products supported by Artificial Intelligence and Professional Forex traders.
At only 28, and in less than half a year, Santiago Rozo achieved an accomplishment that few experience so quickly.
"When I first decided to go all in with OmegaPro, it was that moment when it hit me – just how perfect this company is. I had little doubt that we would have success and maybe it's that zero-doubt mentality that's helped get us here.

I do feel honored and  fortunate to have had this opportunity. At this point, it's all about duplication. As good as it feels, it only gets better as others follow suit.
The opportunity our industry provides is a platform to help life those in less fortunate situations rise up and claim a different life than what may have been available to them prior.
"I come from a middle class family which gave me the chance to become a professional, but due to the low employment rate and low salaries, I decided to become an entrepreneur.
Ever since I can remember I've always dreamt about building my own businesses and having my own personal projects. And thanks to the network marketing industry, I was able to create high leading teams with more than 50,000 people, I also had the honor to introduce OmegaPro to the Colombians, and by thus open the Latinoamerican market.
Success has taken Santiago to parts ot the world he had never imagined, and provided him with experiences that have created memories that will last a lifetime.
I've traveled to more than 20 countries, cruising through unbelievable Places such as; the Arab Emirates, Sweden, Germany, among others, and I'm only 28 years old.

There's a common factor between all people, and that's we all want to be a part of something great. OmegaPro is that for me and so many others. We've reached a momentum phase and it's forward from here!
OmegaPro CEO Andreas Szakacs gives praise for the Colombian entrepreneurs which will be celebrated later this month.
"I couldn't be happier for our great friends in Colombia who have gone above and beyond to present the OmegaPro message. I along with the rest of corporate are thrilled for our growth in the Latin American markets.

This great accomplishment will be recognised at the official launch of Omegapro for all of Latin America that will take place in Bogota Colombia on September 28."
About Omega Pro
The mission of OmegaPro is to deliver a secure world class trading experience to all clients – both retail and institutional. We continually invest in new technologies and people, to provide our clients with a diverse range of trading products and an exceptional trading outputs.
Moreover, we put a major emphasis on account security – we use the most advanced tools and encryption protocols and provide plentiful market liquidity to ensure your capital. Thanks to the vast market volume that OmegaPro handles and our strict risk policies, we can ensure that your account with us is secure, while connecting you to the fast paced global markets.
For more information please visit: www.omegapro.world