TLC Life Changer Coaches A Weight Loss Journey of Over 150lbs With Iaso Tea
September 24, 2019
By Nicole Dunkley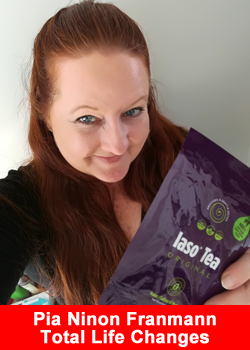 Pia Ninon Franzmann, a Total Life Changer in Denmark, is spreading wellness and helping people make incredible life changes. Check out how she helped a friend lose over 150 lbs in a year thanks to her amazing leadership and TLC's products!
With over 20 years of experience in the direct selling industry, Pia had the honor to work with Simon J. Olesen on his incredible weight loss journey. Before we learn more about Simon's weight loss, let's learn more about Pia and how she joined TLC.
About Pia Ninon Franzmann
Pia has her best friend, Frank to thank for Total Life Changes.
We were looking for a Network company where we could do business together and a company with products that could help me get my "glow and life spark" back and maybe shred some of the 120 pounds/60kgs I had gained due to a serious hormonal illness.

However, the company also had to have strong values, kickass products, and a solid compensation plan. Total Life Changes checked all the boxes.
Pia decided to give the products a try and received her first bag of Iaso Tea in June 2016. After that, there was no going back. In fact, she managed to get rid of 66 pounds/30 kgs the first year.
It was unbelievable, you have to understand that my illness makes it literally impossible to lose weight at all, any previous attempts led to more weight gain.

Before TLC, I had tried many diets – Atkinson, South Beach, the Mediterranean diet, Weight Watchers, Sugarbusters, Fit for life, low carb, LCHF and many many more. Nothing moved a digit on my scales until TLC came along and nothing had helped on my overall health in general until TLC.
Pia gradually added products to her routine as they became available in Europe because she wanted to test them before selling them. Admittedly, she can give long, positive testimonies on every single product TLC offers, but she does have two favorites.
Pia claims that Chaga boosts her immune system and helps improve her health. She takes 2-3 capsules every morning if she is feeling under the weather and she's back to feeling amazing.
"Since including Chaga to my health regime, I have been able to get rid of most of my prescription meds and my overall health is better than ever – the microadenoma in my brain has been reduced with more than 33%. and my health just keeps improving," said Pia.
NRG is Pia's second favorite TLC product. Not only does it provide you with a surplus of energy, it also gives you a feeling of calmness and awareness of your surroundings, helps you sleep at night, and burns calories.
It blows my mind. Before NRG I slept 2-4 hours at night and I was high-strung around children, loud music, crowds, stressed out all the time, on guard 24/7, etc. – because I suffer from PTSD.

Now, with NRG, I'm back to my old self — happy, relaxed, sleeping 6-7 hours at night. I just love the impact this product has on my life.
As soon as Pia discovered what the products could do, she translated all the product sheets and other material into Danish and held product meetings for the Danish and Norwegian Life Changers in order to teach them about TLC and the amazing products they offer.
One obstacle she faced however, was that the citizens of Nordic countries are quite skeptical when it comes to health, weight loss and nutritional products. They want to see results upfront from people they trust before they buy. So she made it her life's mission to help as many people as possible using her business coaching education, her skills as a fully qualified chef and
knowledge of Nutrition in combination with TLC, so she could offer them products, meal plans and work with their overall mindset to achieve a lasting life change, and she did just that.
Simon's Weight Loss Journey
As a head waiter and Sommelier in some of the top restaurants in Copenhagen, Denmark for so long, Simon J. Olesen has enjoyed some of the finest gourmet food and wine served to the fullest, and over the years it started to show on the scale.
"It was to the point where my family and friends became concerned about my health and wellness. I also knew I had to make a change in my lifestyle," said Simon.
Simon believes that destiny played a certain role in him taking the steps he needed to make some total life changes. Simon was at the restaurant where he worked when a regular customer came in to eat with his daughter (Pia) offered to help him shred the pounds/kgs if he was interested.
Simon called Pia on September 20th, 2018 and began his journey with Total Life changes at 426 pounds /194 kgs. Not only did Pia provide him with the exceptional products from TLC to help him along his weight loss journey, but she also tweaked his meals and provided him with a food list.
In order to stay on track, they spoke every week after he weighed in and he would give Pia the numbers. She challenged him, gave her best advice, and even cheered him on when it was difficult. She coached him every step of the way.
Pia became my lifestyle coach. I had her on speed dial. We developed weekly Facebook Messenger appointments, monthly meetings, an approved list of foods, a personal diet plan for me – and of course the TLC products: Iaso Tea, NRG, NutraBurst+, Instant Iaso Tea, SlimPaste and SlimPM. Pia helped me get on track to finally change my entire lifestyle.
Pia's coaching was recognized, and several of Simon's friends and colleagues joined him along the way — whether they wanted to lose 5 pounds or 50. Along with the products and food list, Pia has Simon complete 30 minutes of exercise a day by walking or biking, and even some rounds of golf or a game of squash.
"I began my new lifestyle by shredding my body of excess fat, and the pounds/kgs just kept dropping off — every week the scale went down," said Simon.
Pia and Simon completed his weight loss journey in June 2019, where they planned a maintenance period of 3 months, while he rebuilds his core and muscle mass with a personal trainer.
Pia has added TLC's all-natural spirulina powder named Techui to Simon's daily mix and paused the SlimPM until it's time to get rid of the last 22 pounds/10 kgs when the maintenance period ends in September – October.
"My weight as of today is 235 pounds / 107 kgs. A total loss of 191 pounds/ 87 kgs. I truly had a Total Life Changing experience. A Life Changer and Iaso Tea changed my life forever," said Simon.
Pia can't think of anything more rewarding than helping people become a better version of themselves, changing their lives and experiencing the joy and life spark that weight loss gives another person.
"Total Life Changes changed my life for the better in so many ways, and now I'm paying it forward," said Pia. "I'm absolutely in love with the products, the people and the community of TLC. Their core values and beliefs serve a greater purpose and I'm blessed to be part of this and humbled to be one of the many life changers to create awareness of this amazing company everywhere I go. I always carry samples and the new sample system makes this a breeze. How can I help you change your life?"
About Total Life Changes
Total Life Changes (TLC) is a direct selling company offering a diverse product portfolio of health and wellness products. Founder and Chief Executive Officer Jack Fallon created TLC 16 years ago with a single product: NutraBurst®.
Since that time, TLC has continued to develop weight loss and wellness products matched with an attractive hybrid binary compensation plan. This allows Life Changers of TLC to be rewarded quickly for introducing new customers to its products and business opportunity. Find out why so many are saying, 'It really is different over here.'