Valentus Monthly Sales Are Approaching $10 Million
September 13, 2019
By Team Business For Home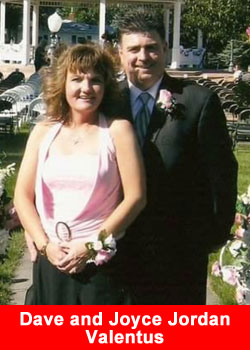 John Haremza, as Valentus' first and only Diamond Ambassador and their number one income earner, shared with us how Valentus grew this past summer.
Summer is when most MLM companies face flat and declining sales but Valentus saw some amazing and explosive growth. Most companies limp into their fall conference with the clear objective to get sales back of track for a good fall season. Valentus screamed into their conference with over $5 million in monthly growth over the summer.
Monday before Dorian found Dave and Joyce Jordan pondering what to do with Dorian approaching and aimed for central Florida. Their big decision with so many Independent Reps in the air and on the way was to cancel or reschedule the conference. The decision was made to delay the event just one day. Dave's intuition and gut was that Dorian would turn North and that the only hurricane that would hit Florida is Valentus and it would be a category 10.
Valentus pulled off an incredible category 10 event with introduction after introduction.
In addition to all the deliverables more than 200 Independent Reps were recognized for their advancement to Diamond and so many ranks above Diamond. Some had absolutely no network marketing experience!
Valentus introduced a comprehensive App which allows their Independent Representatives to do much of their business on their phone.
Dr. Joe Ahrens, a two-time Nobel Prize nominee talked about Emulin. He brought the exclusive marketing rights to Valentus. Emulin has undergone numerous scientific studies on not just the ingredients but on the whole product itself. This is a product that outperforms one of the leading drugs for Diabetes, shows great benefit for chronic inflammation and on how your body uses carbohydrates. This product, not just its ingredients, have been tested and written up in many Medical Journals, which by itself is no mean feat.
Valentus celebrated Dr. Chi Nguyen as Executive of the Year. This was well earned recognition for a Dr. who has led so many into the business and into the very top of the business such as Jen Melendez who became a Royal Diamond in just 13 months. Jen was a very busy nurse and mother, with no network marketing experience who started her business very part time. Our newest Royal Diamond May Bonin accomplished this rank while working full time as a nurse practitioner. The number of people having so much success with no network marketing experience is a testimony to the power of the Valentus opportunity.
The largest international market is Spain with outstanding leaders such as Julian Alcantara, Lidia Juarez Ariza, Jola Valle and Miriam Rangel Leal. What an incredible group.
The international tour starting in October is serious recognition that Valentus has become an international company. John Haremza, and Terri Recknor will start in the Philippians the 6th, Singapore 12th and Malaysia 13th.  This will be followed by a European tour and then by a visit to Mexico.
HAS VALENTUS EXPLODED?
June 2018 – $1 million a month
December 2018  $2 million a month
………  2019 ……..
over $750,000 in growth in January,
$450,000 in February
$850,000 in March.
April their first month with $1 million of growth
Averaged over $1 million a month in growth every month since.
August will be the fifth month in a row with more than $1.5 million in growth.
September after an incredible conference????
After their exciting conference in Orlando Florida on the sixth and seventh of September John believes that September will be a $1.5 million month, maybe even $2 million which will put their monthly sales around $11 million.  John expects that they will be at $15+ million a month by the end of the year.
Those of you that are familiar with the Valentus story know it:
Launched in July of 2014 with $300,000 in total sales.
In 2015 they did $3 million in sales.
In 2016 $32 million in sales.
Challenges in 2017 and through the first half of 2018 caused a sales dip to $22 million.
They turned the ship around the second half of 2018. This is an extremely impressive story as many companies that have a decline of that type in sales never recover.
In 2018 Valentus saw $17 million in sales.
In 2019 they will do something around $80 million in sales.
I asked John what he attributes this tremendous turn around to and he said there were several factors.
John says this whole business is built on believe. When belief is high, sales are high. If belief is low, sales are low.
Our rebirth came from the introduction of our new coffee called Optimum which produced outstanding, earth-shattering results. Valentus then expanded their product line to other products, most recently the introduction of Emulin probably one of the most scientifically documented products ever introduced to network marketing.
These products and others are going to play a significant role in the future of Valentus.
The six-day experience is another major factor. This is a great way to introduce prospects to Valentus and to help a new distributor cash flow and start making money quickly. As John says,
"people quit network marketing not because they're not making enough money but because they're losing money". If you can change that equation you've got a formula for success.
Lastly the comp plan is extremely aggressive, coupled together with the growth they've had in the last 8 months they have created a tremendous environment of success and growth literally with no attrition. This major lack of attrition attributes to the compounding effect of their numbers with more than 10,000 new customers and members each month.
About Valentus
In Latin, the word Valentus means prevail, defined as proving to be superior in strength, power, and influence. Recognizing that, we could n0t have picked a more fitting name for a company that strives to be the example in an industry that deserves a leader to follow.
Since day one, our focus, our passion, and our commitment have been to create a company, a product line, and an opportunity built on a foundation of integrity.
From creating significant levels of income, to building strong networks, healthy long-lasting relationships, making new friends, participating in activities you never even knew existed, having the time to do the things you love with the people you love to be with, VALENTUS can help you PREVAIL in ALL of your goals! For more information please visit www.valentus.com