Vasayo Earns 'Top 50 Healthcare' Award, Remains Focused on Changing Lives
September 25, 2019
By Team Business For Home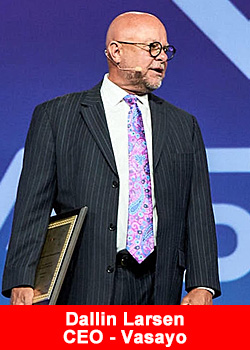 VASAYO. If you don't know about this health and wellness company yet, you soon will.
Just this past June, the startup was recognized as one of the "Top 50 Healthcare Companies in the World" by the International Forum on Advancements in Healthcare…and Vasayo is currently only early into its third year of existence.
No longer under the radar, this Utah-based company is showing the signs of having arrived with no intention of slowing down.
A Different Approach
Vasayo's leadership isn't letting accolades like the prestigious IFAH award go to their heads. Instead, they're taking their accomplishments in stride while remaining focused on a different approach to success—one that extends beyond revenue and rewards.
"Awards are nice but for what we are aiming to accomplish, people matter most,"
says Dallin A. Larsen, Vasayo Founder and CEO.
Those in the industry undoubtedly recognize the Larsen name from Dallin's extensive and successful career history, most notably as a co-founding member of the team that launched MonaVie in 2005. That pursuit saw MonaVie's annual revenue grow to over $850 million by 2008. Larsen then retired in 2014. Fortunately, retirement didn't last long.
Larsen, along with his founding partners Karree Larsen, Daniel Picou, and Dan Zhu decided to begin a new journey in 2017. Thus, Vasayo was born. The team is committed to not only building a quality brand but an organization with a lasting legacy rooted in bettering people's quality of life.
"Ultimately, we gauge our success at Vasayo by how well we're able to improve the everyday lives of individuals and communities,"
says Dallin.
Delivering Solutions Around the World
True to their people-over-profits mentality, Vasayo's company motto is Delivering Solutions. This begins by ensuring that every customer, domestic and international, receives superior products that produce tangible results using Vasayo's advanced liposomal delivery technology for better absorption and use by the body.
For Vasayo Brand Partners, it means using Vasayo's proprietary cloud-based platform called VCloud. Through VCloud, Brand Partners have a digital solution that allows them to run their businesses with far less corporate overhead. This empowers Vasayo to pay a significant portion of their revenue in the form of commissions to their valued Brand Partners—truly investing in the people that make their business tick.
It gets better: In 2018, the Founders treated 200 of their top performers to a lifestyle trip to Paris, while others enjoyed a trip to Fiji. This year, they've already taken several more Brand Partners to Greece and Germany and plan to take hundreds more qualifiers to Hawaii and the Bahamas before the year's end.
But what truly makes Vasayo shine is their global vision for a better world. According to Vasayo's website, which lists philanthropy as one of the company's five key pillars, Vasayo has given themselves a mandate to "bless the lives of 1 million people by establishing 1,000 clean water wells within African communities."
Through its partnership with the charitable organization Hearts and Hands for Humanity, that objective is becoming a reality. Since its launch in 2017, Vasayo has built 64 wells in Tanzania, Africa, supplying 145,000 men, women, and children with access to fresh, clean drinking water.
Poised for the Future
Vasayo's latest endeavor is CBD One, a cannabidiol-based product released in early 2019 and available in both cream and tincture form. Though the team had wanted to introduce this type of product from the beginning, it became much more viable with the passing of 2018's Farm Bill.
Since its launch, CBD One has opened the door to a myriad of new opportunities, including interest from new customer bases who previously might not have taken note of Vasayo. With more and more companies catching up to the buzz surrounding CBD-based products, Vasayo is leading the charge.
Thanks to all of its nutritional innovations, Vasayo is developing into a global enterprise spanning two continents. Here's a glance at Vasayo's growth over the last two years illustrated through the grand openings of four offices around the world:
Pleasant Grove, Utah
Hong Kong
Taipei City, Taiwan
Bangkok, Thailand
"When looking at what lies ahead,"
Vasayo's President Daniel Picou says,
"health and wellness continue to play a major role in all of our lives as a global society. Whether through our products or our philanthropic efforts, Vasayo will be at the forefront of the battle to help people everywhere live happier, healthier, and more fulfilling lives."
If the past is any indicator of what the future holds, Vasayo will deliver.
About Vasayo
Vasayo is a direct sales company based in Pleasant Grove, Utah. Each nutritional product Vasayo develops features the company's proprietary Advanced Delivery Technology for superior nutrient assimilation, eliminating the fillers, binders, and other additives found in most traditional nutritional supplements. For more information on Vasayo—the company that is Delivering Solutions—visit vasayo.com.