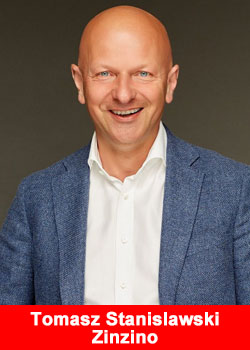 Zinzino Appoints Tomasz Stanislawski As Sales Director
September 11, 2019
Tomasz Stanislawski  has joined Zinzino as Sales Director EEB.
Tomasz Stanislawski enriches Zinzino with 24 years of experience in networking marketing. His professional career includes working for several leading companies, such as Herbalife, Vision International, Partylite, Vemma and recently Vabo-N..
His extensive professional experience includes developing and strengthening operations, sales, marketing, corporate social media and international expansion.
Along with his experience in direct selling, Tomasz earned a master's degree in trade from Warsaw School of Economics and speaks three languages: English, Russian and Polish.
ABOUT ZINZINO
Headquartered in Gothenburg, Sweden, Zinzino is a direct-sales health and wellness company, focusing on long-term prosperity through its signature Balance Oil range and skincare products. The company also owns Bioactie Foods.
Zinzino operates throughout Europe, North America and, as of next month, Australia. Zinzino have over 120 employees worldwide, with offices in Sweden, Latvia, Norway, USA and Australia. For more information please visit www.zinzino.com
Get more information, fact and figures about Zinzino, click here for the Zinzino overview.
Recommended Distributors