AIM Global-ALIVE Foundation Gives Back To 1,050 Students In Cebu, Philippines
October 27, 2019
By Team Business For Home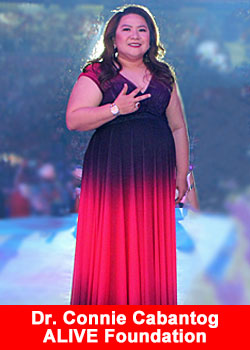 Alliance In Motion Global is through and through a pro-distributor company. It aims not to be just an MLM-Direct Sales company that offers exceptional products and innovative services, it also is a company fully committed and dedicated on giving back to society, especially to the underprivileged.
For AIM Global, teaching their distributors the power of a simple act of giving creates a power to change the lives of others. It is a lot more fulfilling to know that you are helping and giving hope to the less fortunate while you are building the life of your dreams and financial freedom.
The people behind ALIVE Foundation found their calling in dedicating their lives to help poverty-stricken and disabled communities. It continues to inspire more people to join them in helping different communities by volunteering in outreach programs, blood donation programs, relief good operations, medical missions and parties for children with special needs that are organized by the foundation.
For 11 years now, ALIVE Foundation has been leading the charitable arm of an MLM-Direct Sales company. The foundation sheds light on social responsibility and ardently opens up the eyes of distributors to give unselfish acts of kindness and extend a helping hand to the less fortunate.
ALIVE Foundation has already assisted thousands of families, locally and globally. Whether its for relief operations for typhoon-stricken cities and provinces or for communities that were victims of fire, the foundation makes sure to reach those who are in desperate need.
ALIVE Foundation has also spread its wings to several countries in Africa. The foundation has distributed school supplies, bags of nutritional food, rice and toys to 1,000 primary and secondary students from Lagos, Nigeria while two more charity programs in Entebbe, Uganda resulted to 1,250 students and families receiving goods, clothes, school supplies and school shoes.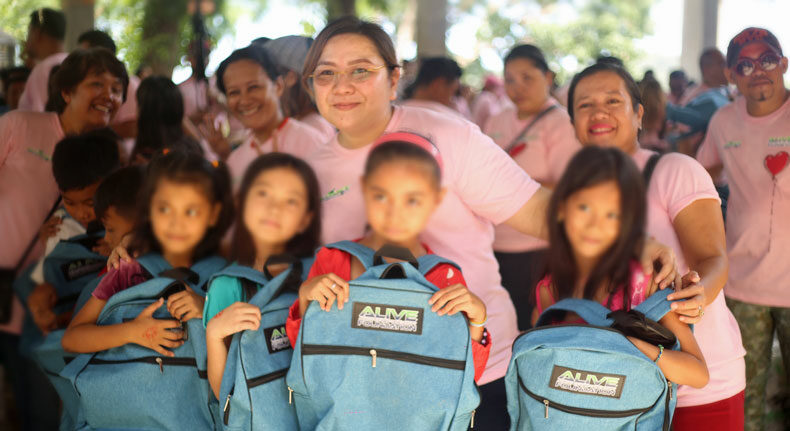 AIM Global's charitable wing also actively participates in medical missions with non-government organizations, Philippine National Red Cross and Operation Smile.
And continuing its dedication to serve the underprivileged, another 1,050 students have received bags of essential goods, school supplies, and toys through the initiative of ALIVE Foundation.
AIM Global's Director for International Affairs & ALIVE Foundation Chairperson Dr. Connie Cabantog spearheaded the charity event last September 29, 2019 at the Guba Elementary School in Cebu City, Cebu, Philippines. Company senior executives Visionary President and Chief Executive Officer Dr. Ed Cabantog and Chief Marketing Officer Mr. John Asperin joined the heartwarming gift-giving program together with company Vice Presidents Engr. Jurgen Gonzales and Mr. Arnel Limpin, members of AIM Global's Hall of Fame, some of the top 20 leaders, and other prominent leaders from Cebu and the staff.
A painting competition was also held where all of the 1,050 students participated in groups to make a painting about the environment. The special education students won the top prize and received customized tumblers for their beautiful hand-printed painting of a tree.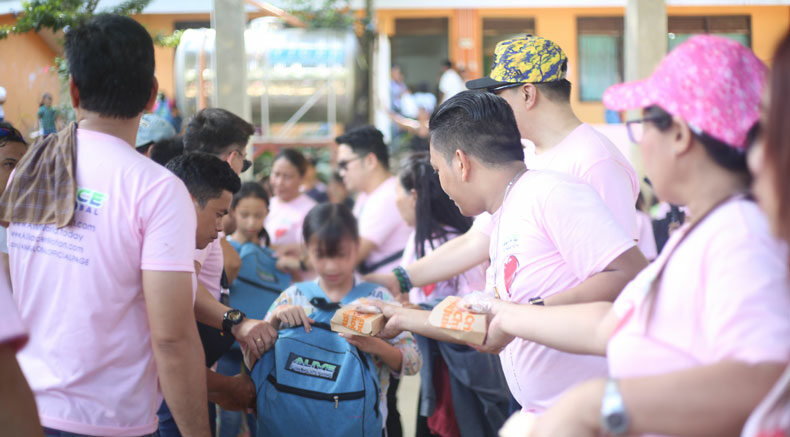 The 1,050 students, with their guardians and teachers, serenaded the organizers and volunteers as a way for them to convey their gratefulness for their new school supplies and toys.
"I know going back home to your houses, somehow there is some kind of fulfilment. Hopefully, you're going to pay this forward together with your group. I am excited with the kind of results that you're going to attain when you do this."
stated Director for International Affairs & ALIVE Foundation Chairperson Dr. Connie Cabantog
To end the charity event, Dr. Connie Cabantog thanked everyone who came and volunteered, especially those who flew all the way from Manila, Philippines. Dr. Connie Cabantog also encouraged them to continue and to not stop giving back to the less fortunate and helping those who are in need. She also reminded them the importance of giving back without expecting anything in return.
And with a huge, grateful smile on her face, the ALIVE Foundation Chairperson further empowered the volunteers, "There's a saying, 'when you give, you receive.' But that is not the consciousness that we have here in AIM Global. We are not giving, for us to receive. We are giving with the consciousness for us to be able to impart something to the people around us, especially to the less fortunate. God bless to all of you. Let's do this again!"
ABOUT AIM GLOBAL
Founded by Network Marketing icons Raymond "John" Asperin, Engr. Francis Miguel and Dr. Eduardo Cabantog in 2006, Alliance In Motion Global (AIM GLOBAL) is the leading direct sales network marketing company in the Philippines. The company markets and distributes top of the line Nutraceutical supplements, weight loss wellness products, personal care and skincare products, functional beverages and premium lifestyle products.
The company is a proud member of MLMIA (Multi-Level Marketing International Association) in USA, founding member of Direct Selling Association in Pakistan (DSAP) and Direct Selling Education Institute (DSEI) of Dubai, UAE.
AIM Global has 130 business center offices in the Philippines and has global offices in 20 countries namely Hong Kong, Singapore, Taiwan, Brunei, Papua New Guinea, UAE, Bahrain, Kuwait, Pakistan, Nigeria, Ghana, Kenya, Uganda, Togo, Ivory Coast, Cameroon, Tanzania, Rwanda, and the Solomon Islands.
AIM Global is categorized as "+AAA" business opportunity, Top 100 Solid MLM Direct Sales Company 2018-2019, Top 10 Momentum Direct Selling Companies 2018-2019, Top Direct Selling CEO 2014-2019, Founder/Director/CEO and Visionary President Dr. Eduardo Cabantog as one of the Ambassadors of Network Marketing – Hall of Fame 2018 by Business For Home, top awardee in the Direct Sales category of Asia Pacific Entrepreneurship Awards 2017, winner at the International Innovation Award 2018 for its revolutionary Daily Payout System, and one of the awardees for Asia's Best Performing Companies at the 6th Asia Corporate Excellence and Sustainability (ACES) Awards 2019.
ABOUT ALIVE FOUNDATION
ALIVE Foundation, which means Always Live In Victory Everyday, is the charitable arm of Alliance In Motion Global. It has been delivering its promise to be of help to the needy for 11 years now.
The Foundation was formed on June 2008 aimed at responding to the needs of the community especially the street kids and abandoned children, the elderly, indigenous tribes, and the people in calamity-stricken areas in the Philippines.
Since then, ALIVE Foundation has benefited countless people through the tireless efforts of its Chairman, Dr. Connie Malubay-Cabantog, with the involvement of AIM Global's members and distributors.
As a way of giving back to the community in which AIM Global does business, ALIVE Foundation has organized numerous outreach programs, gift-giving activities, and medical missions in the Philippines. On the other hand, the Foundation has also extended its services to the people of Africa.
Furthermore, ALIVE Foundation actively participates in pro-life missions of several Non-Government Organizations, as well. One of its annual involvements is with the Philippine National Red Cross in their "Give Blood, Save Lives" project.
The Foundation also worked hand in hand with Operation Smile and sponsored at least 300 children to undergo surgical procedures on cleft lip and cleft palate, indeed, giving the children beautiful smiles they deserve.
Not only that the Foundation is a tool for AIM Global to do its fair share of social responsibility, but it is also an effective channel that further tightens the bond among its leaders, members, distributors, and employees for the common good.
ALIVE Foundation believes that the act of giving will create more opportunities to significantly serve others and inspire more people to be involved in community service.