AIM Global Tanzania Holds 1st Anniversary With 4,000 Distributors  
October 8, 2019
By Team Business For Home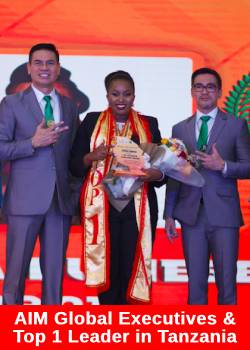 Tanzania is an East African country that is more than its geographical treasures. It is a country that has so much cultural diversity.
It is no surprise that the MLM-Direct Sales industry continues to be a gigantic force there as it became the means for the Tanzanian people to have their own business with little monetary investment but will still have  the opportunity to grow into a large business that will let them achieve their dreams to have financial freedom.
Alliance In Motion Global, the leading MLM-Direct Sales company in the country just celebrated its first anniversary last August 23-24, 2019. Within a year, AIM Global has proven itself in the East African region once again as it has helped its Tanzanian distributors improve their lives and build extraordinary millionaires out of ordinary Tanzanian people.
To start the festivities for AIM Global Tanzania's 1st anniversary, AIM Global Tanzania organized a full day dedicated to intensive trainings for its distributors. AIMcademy Tanzania 2019 was held at the Mlimani Convention Center in Dar Es Salaam, Tanzania last August 23, 2019 and over 3,000 attendees showed up and brought their A-game to a day filled with learnings from the best of the bests in the MLM-Direct Sales industry.
AIM Global's Vice Presidents, VP for Business Development Engr. Jurgen Gonzales and VP for Network and Training Development Mr. Arnel Limpin flew over the Indian Ocean and crossed the 6,066 km distance from Manila, Philippines to Dar Es Salaam, Tanzania to show their support and appreciation to the Tanzanian community by sharing their knowledge and expertise in the network-marketing industry to the attendees of AIMcademy Tanzania 2019.
Along with AIM Global Executives, AIM Global International Trainers Mr. Adrian del Rosario and Mr. Miko Imson were also at the event and gave several seminars and trainings to the aspiring distributors.
"All you have to do is to believe in yourself. If you believe in yourself, you will be successful." – AIM Global Vice President for Network and Training Development Mr. Arnel Limpin 
VP for Network and Training Development Mr. Arnel Limpin reminded the attendees of the power of the right mindset. To be a great leader and the best distributor one must be, they have to believe in themselves first. If one believes in themselves, and the rest will eventually fall into place. One must have faith in their own abilities, and if its followed with hard work, nothing could not accomplished. He also shared that fears and insecurities shouldn't stop everyone from trying new things. Fear has no place in the industry if everyone would commit to have the right mindset.
"Our formula to success is innovation plus expansion. We are successful because we keep on innovating and expanding at the same time!" – AIM Global's Vice President for Business Development Engr. Jurgen Gonzales
On the other hand, VP for Business Development Engr. Jurgen Gonzales focused on the importance of making the right decisions that could lead everyone towards success.
He believes that reinventing and innovating could also lead everyone to success. Innovation is not solely represented by new devices, ideas or methods, but also by the process of uncovering new ways to do things. It can also pertain to easily adapting to changes to achieve better results.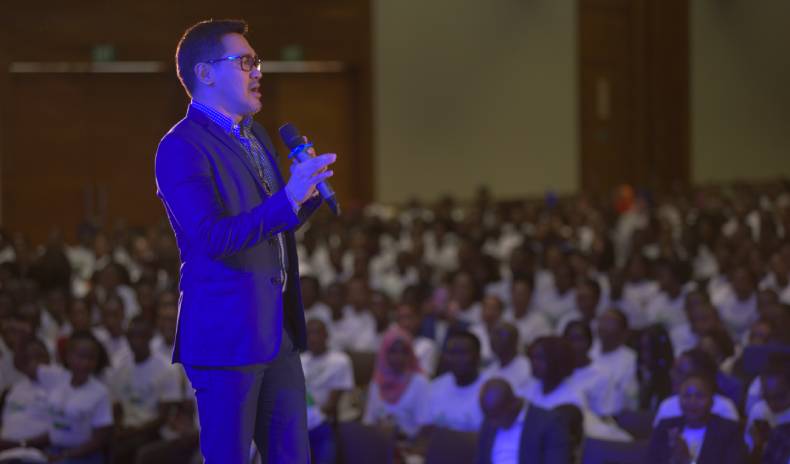 The next day, August 24, 2019, the Mlimani Convention Center in Dar Es Salaam, Tanzania was filled again with over 4,000 eager distributors for the 1st Anniversary Recognition Rally for AIM Global Tanzania, organized by its hard-working branch staffs and AIM Global Tanzania Country Manager Mr. Edmund Rula.
AIM Global Executives once again showed their support and attended the momentous event, leading the recognition rites for the 24 new members of Speaker Bureau, 6 new members of the Millionaires' Circle, 2 new Global Ambassadors, 350 new Silver Executives and 70 new Gold Executives and the 15 newest Car Achievers of 2019. The Top 20 distributors of AIM Global Tanzania were also announced with Ms. E. Kuwese securing the top spot, followed by Mr. E. Lutabingwa and Ms. E. Kimaro clinching the 2nd and 3rd spots.
Mr. K. Sirwatty and Mr. A. Shoo shared their stories of success and what they went through before becoming multi-millionaires today while Product testimonials were also given by Dr. Lydia Kaoo, MD, and Ms. J. Kabulaya, whose knowledge of wellness development and health impressed everyone.
With its first year and its promising top leaders that will soon be the next future icons, the invigorating fighting spirit of the aspiring distributors and the unwavering guidance of the AIM Global Executives and management to its top leaders and distributors, AIM Global Tanzania will inevitably reach newer and greater heights and undoubtedly leave its mark as one of the unstoppable forces in the MLM direct-selling industry in the African continent.
ABOUT AIM GLOBAL
Founded by Network Marketing icons Raymond "John" Asperin, Engr. Francis Miguel and Dr. Eduardo Cabantog in 2006, Alliance In Motion Global (AIM GLOBAL) is the leading direct sales network marketing company in the Philippines. The company markets and distributes top of the line Nutraceutical supplements, weight loss wellness products, personal care and skincare products, functional beverages and premium lifestyle products.
The company is a proud member of MLMIA (Multi-Level Marketing International Association) in USA, founding member of Direct Selling Association in Pakistan (DSAP) and Direct Selling Education Institute (DSEI) of Dubai, UAE.
AIM Global has 130 business center offices in the Philippines and has global offices in 20 countries namely Hong Kong, Singapore, Taiwan, Brunei, Papua New Guinea, UAE, Bahrain, Kuwait, Pakistan, Nigeria, Ghana, Kenya, Uganda, Togo, Ivory Coast, Cameroon, Tanzania, Rwanda, and the Solomon Islands.
AIM Global is categorized as "+AAA" business opportunity, Top 100 Solid MLM Direct Sales Company 2018-2019, Top 10 Momentum Direct Selling Companies 2018-2019, Founder/Director/CEO and Visionary President Dr. Eduardo Cabantog as one of the Ambassadors of Network Marketing – Hall of Fame 2018 by Business For Home, top awardee in the Direct Sales category of Asia Pacific Entrepreneurship Awards 2017 and winner at the International Innovation Award 2018 for its revolutionary Daily Payout System.