Enhanzz Global Launches Beauty Salon And Spa MLM Concept
October 31, 2019
By Team Business For Home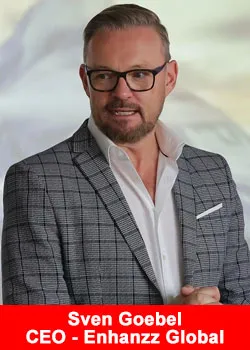 Enhanzz Global's top skincare brand HANZZ+HEIDII is quickly building up its public awareness.
Besides the increasing amount of Brand Partners, and growing brand awareness through the many articles in public media, more and more professional skincare experts are joining, excited to treat clients in their existing salons and studios – and consequently resell HANZZ+HEIDII products to their existing client base.
The company reacted quickly to that increasing demand and developed a B2B concept as an integral part of its direct selling concept.
Brand Partners with existing background and expertise in the skincare field can apply for a professional certification course where they receive in-depth education on the product, skincare in general as well as on professional sales skills.
Furthermore, they become equipped with appropriate product and sales-aid material, including professional salon equipment. The education is free, thus prospects have to undergo an interview process to become eligible for the course that leads to becoming a certified HANZZ+HEIDII B2B Brand Partner. The acquired retail stores benefit from a higher retail margin as well as a full range of professional salon equipment including cabinet products for their treatments. Before being accepted as a retail salon, it is undergoing a simple but effective submission process by the company before being accepted.
As the privately run salons and spas are added into the organization similar to any Brand Partner, the network marketing organization benefits as well, in two ways: The retail partners drive significant volume by accessing their already existing, major customer base in a professional way, while the volume produced in the shops is fully counted towards qualifications and – slightly reduced because of the higher retail margin – toward commissions within Enhanzz Global's compensation plan.
CEO Sven Goebel commented:
"This week, we have welcomed our very first official HANZZ+HEIDII natural skincare institute in Neu-Isenburg, Germany. Our branding and products are adding massive value to the salon and we are excited about seeing this prosper.
We are proud that we accomplished a seamless integration of this professional model into our network so it becomes a true win-win. Our B2B retail partners received a powerful additional training in 7 different modules and are ready to attract lots of privately run spas and salons.
In Germany alone, 24.000 do exist. Once we see that this pilot project takes off and after we have eliminated potential flaws, we can roll this out to any marketplace in the future.
What I like most about it is that we do not encourage just everyone trying to acquire top-level salons and spas without any expertise. Brand Partners can turn their leads over to an existing B2B partner to close the deal and benefit from the resulting business as a tip-provider.
This keeps the image and the quality of the brand up due to a professional support level. At the same time, all our network marketers enjoy the resulting volume, while they can fully focus on their simple person-to-person approaches within their warm markets.
I think we once again have sold an old problem in our industry in a smart and synergetic way that should result in a long-term, stable business with keeping up our excellent brand reputation."
About The ENHANZZ Holding
The ENHANZZ Group of companies is a 2018 inaugurated, European based consumer product and distribution company group from Switzerland.
The founders Dr. Sven & Audrey Goebel and Sven & Christina Hennige, heavyweights in both the direct sales and corporate field, believe that it was the right time to launch that modern, tech-oriented, consumer-friendly global company group from Europe.
By identifying as Swiss-based, they are making their own commitment to exceptional standards in every aspect of the company's products and operations, offering fashionable, high quality, Swiss-made consumer product lines.
About HANZZ+HEIDII
The exclusive HANZZ+HEIDII natural vegan skincare line for "HIM" and "HER", is a cutting edge, active symbiosis between nature and biotechnology, including its proprietary "Magic Swiss Code" formula, and its "Made Without" referring to its commitment that all products are non-animal tested and free of any harmful irritants and additives.
Currently, there are 9 products available for "HER" including a cleanser, serum and day/night cream; 4 for "HIM" also featuring a cleanser and serum  plus 1 unisex facial mask. For more information please visit www.hanzzandheidii.com and www.enhanzz.com