Thomas Poulin And Annie Pier Lavoie Achieve Diamond Ambassador Rank At iBüümerang
October 7, 2019
By Team Business For Home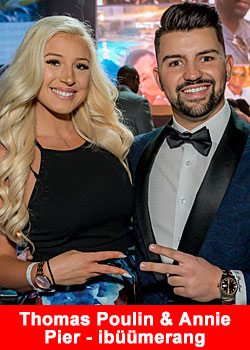 Thomas Poulin and Annie Pier Lavoie have achieved the rank of Diamond Ambassadors in their first week in ibüümerang.
This accomplishment is rare in the industry of network marketing and is achieved only by those that have prevailed when faced with massive challenges and have found the right environment to succeed.
The story begins three years ago, during Thomas's fourth year in network marketing, sitting in a restaurant with one of his new distributors, teaching him how to approach cold-market prospects. Annie was a student and a personal trainer working two jobs to make ends meet. Her second was as a waitress – and she was serving Thomas and his friend.
Within minutes of meeting and true to cold-market prospecting form, Thomas said to Annie,
"You have great energy, you are nice, and you would be great at what I'm doing for a living."
Annie, always open to opportunity and with a great work ethic, agreed to meet Thomas later that week. When he presented to her the industry of network marketing, she immediately loved the concept and got started right away. They became business partners, and not long after, life partners.
Currently, in their 20's, Thomas and Annie are already million-dollar income earners in the industry and have built global organizations.
When they heard about ibüümerang, they were immediately attracted to the company for several reasons. First and foremost, the leadership of Holton Buggs. They knew that Mr. Buggs' specialty was creating an environment where anyone who chooses to become part of that environment can grow and achieve greater goals than they had previously thought possible.
Second, they both saw an opportunity to create a massive residual income, and have thousands of team members do the same, which is rare in the industry. Offering a FREE service that customers genuinely want because they will save money every time they use it – well, that clinched it for them. And finally, the opportunity to build a worldwide organization was too exciting for them to pass up.
The rest of the story is now history. After only one month in ibüümerang, Thomas and Annie have developed teams all over North America, South America, Europe, and even the Middle East. In that same period, they have helped build and promote 3 Emeralds, 4 Rubies, and 15 Sapphires.
They take great joy in seeing their teams succeed. Within the next 12 months, Thomas and Annie have a goal to build their organization to produce over $5 million of volume per month by helping a minimum of 25 people become Diamond.
CEO and ibüümerang Chairman Holton Buggs says,
"Thomas and Annie are proof that age is not a barrier to success with ibüümerang. They are driven, hard-working, committed and passionate people and we are proud to have them as part of the ibüümerang family."
About ibüümerang:
Pre-Launched in March 2019, ibüümerang is fast becoming a global leader in the travel and direct selling space. The mission of ibüümerang is simple: deliver goodwill in the form of travel savings and reward our Travel Savings Ambassadors (TSAs) with travel savings bonuses in cash. The vision is to create a consumer-centric model focusing on an exceptional customer journey and experience.
By creating a worldwide movement of Ambassadors, we will empower people from all around the globe to live life to the fullest, earn residual income via the PRIB™ (Perpetual Residual Income Builder) and leave a legacy to future generations.
For more information on ibüümerang, its Chairman and CEO Holton Buggs, its top tier executive team and its revolutionary travel program, please visit the company website at www.ibuumerang.com.