Top Leader Gary Hasson Joins Start-up ClearUnited
October 9, 2019
By Team Business For Home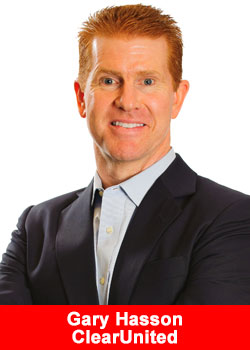 Gary Hasson and his wife Melissa were married in January 1990 and joined their first network marketing company two weeks later.
Gary said,
"ClearUnited is completely different than anything Melissa & I have been a part of during our 29 years in this profession, and we have never seen anything like this launched globally."
"My long time friend and former neighbor, Michael Proper, has led up some very successful technology companies over the past several decades, providing dozens of products and services to the network, gateway and server worlds."
ClearUnited is now taking these products and services to the world at the mobile level, starting with the ClearPHONE.
"I've been intrigued with blockchain and cryptocurrency, and after reading the book, "Life After Google: The Fall of Big Data and the Rise of the Blockchain Economy",

I really caught the vision of ClearUnited's role in the blockchain economy, including their ClearTOKEN."
"It's quite impressive what Mike and his team have been preparing for the last 10 years through product development and company acquisitions, to be able to unveil dozens of products in the coming months and years – products we already use on a daily basis.
Products like our ClearHEALTH, ClearMED, ClearENERGY, ClearHOME, and much more."
About ClearUnited
ClearUnited's core mission is to empower everyone, everywhere, with the technology to free ourselves from big tech companies by arming individuals and families with personal control over their privacy, protecting children's online safety, owning our digital Identity, and securing our data.
We believe in digital freedom, liberty, and choice. ClearUnited donates 100% of its profits to worldwide charities that align with ClearUnited's core mission. Visit www.ClearUnited.com to learn more.