Touchstone Essentials And Top Athlete Matt Hetherington Partnering Up
October 24, 2019
By Team Business For Home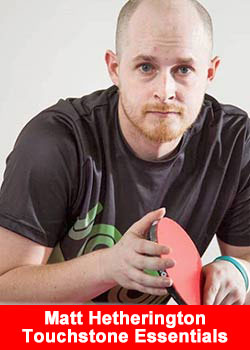 Every top athlete expects to undergo grueling workouts and extreme training to reach the pinnacle of their sport.
However, few athletes face these physical trials while also battling the health challenges of an autoimmune disorder. But for Touchstone Essentials' brand ambassador, Matt Hetherington, this has been a reality.
New Zealand Champion Table Tennis star Matt Hetherington was first diagnosed with an autoimmune disorder in 2013 and experienced debilitating health relapses in the years since his diagnosis. Matt explains,
"Each relapse cost me 3-4 months of time each year spent sick or recovering. These are major setbacks for a training athlete."
Determined to combat his health issues, Matt dedicated himself to improving his well-being with healthier eating choices, and feeling a difference, knew that nutrition was a key to his recovery. When a secondary autoimmune diagnosis came in 2018, Matt took his recovery efforts to the next level with the organic, whole food supplements of Touchstone Essentials. 
"Things have been looking up. With the help of Touchstone Essentials' plant-based, non-GMO products I was able to recover much faster than after previous relapses and I feel physically stronger and more alert,"
said Matt.
Matt's supplement routine starts with Super Green Juice, an organic green powder featuring 44 organic superfoods in every scoop. Matt shared,
"Super Green Juice gives me much-needed greens every day, and makes a great smoothie. One of my favorites is Organic Super Protein, which is vegan and filled with clean plant proteins. I feel it has definitely improved my recovery and ability to up my game for multiple training sessions since coming back."
Another significant change for Matt was switching from high-sugar, artificial caffeine drinks. "I used to rely on soda or energy drinks to keep me on my toes, which are terrible for anyone suffering from multiple chronic illnesses. Now I take a capsule of Boost Focus Fuel—which has organic green coffee bean extract and organic green tea extract—before each training session which gives me the kickstart I need to be alert and focused," explained Matt.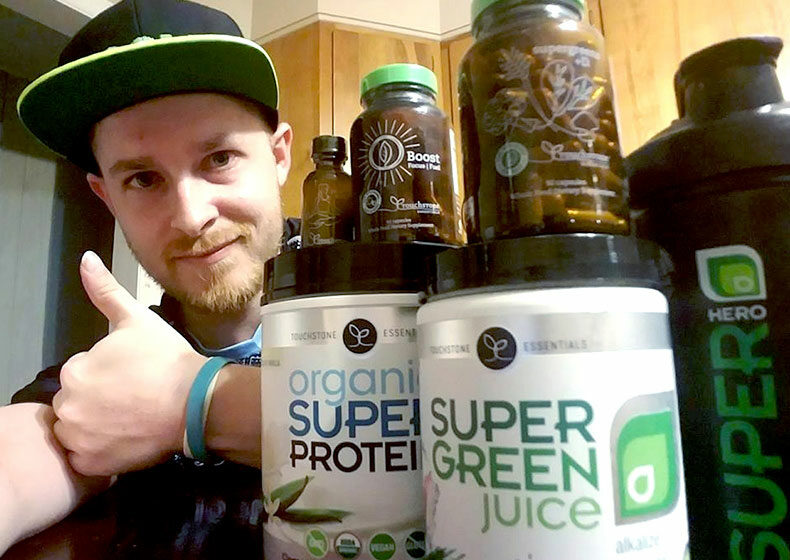 In addition to being a table tennis athlete, Matt is an accomplished professional coach and expert on the sport. He serves as the head commentator for USA Table Tennis and is a Certified ITTF Level 2 Coach and professional table tennis writer.
Research points to the importance of gut health in maintaining a strong and balanced immune system. For extra digestive support, Matt shared that he turns to Supergreens +D for its probiotic support and organic vitamin D. He's also an avid fan of Wellspring, for its vegan essential fatty acids, organic turmeric and organic ginger root, which he has found helpful in fighting the effects of temporary inflammation.
"Especially when I travel and my body undergoes physical and mental stress, I always make sure I have Supergreens +D and Wellspring with me, which help to keep my health and energy on the right track."
Matt believes that organic superfoods are a key factor in a healthy lifestyle. "Using these products, I feel great out on the table when I'm training, am lighter on my feet and I have more stamina in the longer training sessions. I know that if these products can make such a difference for me, everyone can experience a benefit, whether it is an improved lifestyle or better sports performance.
I'm looking forward to the road ahead and am grateful for Touchstone Essentials being a partner in good health."
About Touchstone Essentials
Touchstone Essentials was founded in 2012 by 30-year industry veteran, Eddie Stone, with a vision of organic goodness accessible to everyone. They ship to over 60 countries around the world. Touchstone Essentials has been experiencing double-digit growth over the past 3 years and with the recent launch in August 2018 of the organic CBD hemp oil line, things have started reaching critical mass. They describe themselves as proud rebels with a cause, offering products for Daily Detox, Organic Superfoods, and CBD.
When you join as a VBO, you become a visionary business owner. As a VBO, you're the CEO of your own empire, but you're not alone. Touchstone Essentials offers an advanced digital marketing system with a trove of resources, all at no additional cost. This includes a TheGoodInside.com e-commerce site, blog, and e-newsletters, social media retargeting and more. For more information please visit www.thegoodinside.com