Amber Davidson Achieves Ambassador At Elepreneurs
November 18, 2019
By Team Business For Home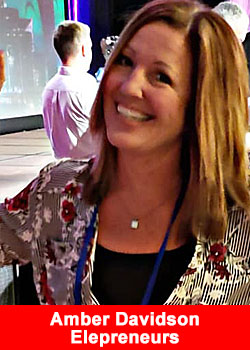 Amber Davidson well understands the perks of owning a business. After all, the Port Charlotte, Florida, resident already owns several. She and her longtime partner (soon-to-be husband come December), Rob Kaleda, own a fitness franchise and a home inspection business, "so we are very busy, as you can imagine," says Amber.
A few months after Amber opened her gym, a friend shared the Elepreneurs products with her and, as a result, Amber joined the company in March 2018.
"I had been struggling with my weight for years and had major thyroid issues. I fell in love with D.O.S.E. from day one and decided I would become an affiliate to get my products paid for."
Though she stayed busy with her other businesses, Amber says actually making money from Elepreneurs wasn't even on her radar. In fact, she'd never been in the direct-selling industry before. "I don't even sell my own gym memberships!" she says
"And I had no intention of really working at selling but, lo and behold, here we are! I just kept sharing how much I loved the products, and people kept signing up."
As Amber's business grew, she watched her own physical transformation, too. Nearing the age of 50, she knew she needed a lifestyle change. Elepreneurs has allowed her to continue a healthy lifestyle, and, as a result, she's lost 109 pounds.
She and Rob have four children, and Amber says family remains the couple's focus.
"I want us to be able to retire at a young age and enjoy travelling and spending quality time with each other," she explains.
While her only goal when signing up was to earn free product, Amber is now an Elepreneurs Ambassador. "I would have never thought in a million years that my pay would be more than it ever has," she says.
And with three businesses under her belt, Amber understands what it takes to succeed. "Be real, tell your story, be kind, be helpful, and spend as much time learning and building and watch your business grow. You get out of it what you put into it."
About Elepreneurs
Elepreneurs is on a mission to elevate your health, wealth, and happiness. We help you elevate your life through patented nutritional products, life-changing virtual success training, and a unique rewards program.
Elepreneurs actually builds happiness right into our powerful nutritional products. The superior, scientifically backed ingredients stimulate the happiness hormones — dopamine, oxytocin, serotonin, and endorphins — which we refer to as D.O.S.E. For more information, visit www.elepreneur.com.