Boris Lupsina And Marina Mursic Achieve Black Rain Diamond Rank At Rain International
November 5, 2019
By Team Business For Home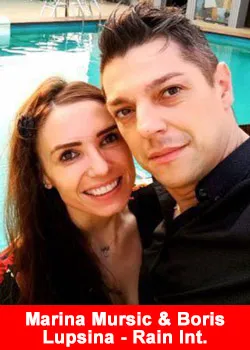 Boris Lupsina and Marina Mursic started their career at Rain International in 2015 though Boris has been involved with network marketing since 2009 and he became very passionate about the industry ever since.
They are currently occupying one of the highest leadership ranks in the company. In the past 4 years their team has expanded all over the world and they have also produced several Diamonds which is a very prestigious rank that everyone look up to as they associate this rank with freedom.
Boris stated:
"Freedom comes from being able to make choices. We are extremely grateful that every day in our home office and on every stage we present on we get to inspire and help people. Is great to be that catalyst in people's lives."
'I have never worked with more generous owner then our CEO Byron Belka. He lives and breathes with his company.
This time, achieving Black Rain Diamond rank has been something special especially because they are expecting their first baby in 2 months so they are excited about the future.
Marina stated
"We don't have words to describe the hope this baby gives us for the future. A new reason to do even more and better in the future."
In the future they want to encourage, educate and enable more people to be leaders.
They are grateful for their sponsor Dino Nedelko.  A good mentor wont do the work for you, he is simply going to help you develop your own opportunities. That is what happened to us with this company.
Dino stated:
If you want me to show you one of the most committed and hard working people I ever met in this industry, look at Boris and Marina. I believe this skill together with huge care for people is something that makes them very special to work with!
About Rain International
Rain International is the original creator of seed-based nutrition. Our experts have gone to the source of plant nutrition to formulate products proven to support healthy lives.
Rain International is more than the products we sell. From the beginning, we set out to make changes to improve the world around us starting with the health industry and moving beyond its borders into global sustainability, education initiatives, elevated lifestyles, and more.
We believe that the ultimate human experience we all crave is within everyone's reach, and we don't mind leading the way.
For more info please visit www.rainintl.com.