David Imonitie Nr. 1 African American Income Earner in The MLM Industry
November 17, 2019
By Team Business For Home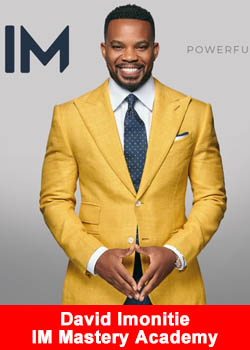 David Imonitie is known and highly respected throughout the industry not because of the sales generated but for his ability to build some of the largest organizations the industry has ever seen. 
David currently sits as the #1 African American income earner in the direct sales industry. In addition, out of 150 million people within that industry, he comes in today as the 7th highest income earner worldwide. Yet ask him about those stats and it's not important to him. 
The secret?
He builds his foundation through the power of belief and leading by example.  Authentic, genuine and more importantly a man that will stand for truth to do the right thing and against all odds; David proves himself every time to be an example of leadership even if it means to ride the storm alone.
"There's no winning at business when we know 'business' will never have an end.  You have to have that mindset and that's David. One day is a success, and tomorrow it will change.

David leads by example, his focus has always been improving himself and touching as many lives as he can.

His mindset is powerful and he believes everyone has the ability to build a more fulfilling life,"  
replied CEO, Christopher Terry.
The great heights of his success were not always just David's efforts, he cut his teeth in this industry the first five years making what was industry standard before breaking through in 2009 becoming a six figure earner.
David never stopped believing and working hard his day of harvest would come. Because of those strong beliefs, by 2011 he entered the 7 figure annual earning club with organizations spanning the globe. Today, David's momentum continues allowing him to flow naturally into earning multiple 8 Figures.
Prior to joining the IM mastery academy™ in 2016, David was one of the biggest catalysts for growth in another billion dollar company.  Yet David see's income as a small part of a much bigger equation to life that needs fulfillment. He chose to take his expertise and leadership skills to a smaller company with a purpose bigger than making money.
David quickly brought an environment of belief and achievement to a company of 1,500 active customers at that time to now over 100,000+ active IM academy™ customers worldwide generating hundreds of millions of dollars in sales.
If you spoke with David, he'd tell you he's not the reason for the success of his leaders or for any company – it's clear he understands how to achieve real success. He has said,
"Teamwork and a tremendous belief is what creates success.  I learned a principle years ago, we BECOME what we THINK about.  This law has guided my success and continues to do so.

The difference between earning six figures and eight in this industry is not just a work ethic, it's 1000% MINDSET.  If you can develop the Mindset of an 8-Figure earner then you will be just that." 
David Imonitie continues to serve the IM mastery academy™ as they are preparing for the 2020 vision of becoming a 1 Billion dollar company helping over 1,000,000 active customers learn & earn a life of fulfillment.
"CEO, Christopher Terry of the IM mastery academy™ held a vision for the last 6 years and I am committed to seeing that vision come to fruition,
stated David Imonite.
About IM Mastery Academy™
IM Mastery Academy provides a full array of education, retail trading products and services to a global audience for those who want to participate in the Forex, Digital Currencies & Futures Markets. IM Mastery Academy services include Live Educational Mentorship in 13 languages, Trade Scanners and Algorithms, Signal Providers from trading veterans, a gamified learning process, mobile applications and a whole suite of other amazing services.
IM Mastery Academy has a bundled their products/services with a Network Marketing compensation plan that allows its IBO's to earn a generous income by simply sharing their services with others and building a residual income through building a network of IBO's and customers. For more information please visit www.im.academy
Disclaimer.
We make every effort to ensure that we accurately represent these products and services and their potential for income. Earning and Income statements made by our company and its customers are estimates of what we think you can possibly earn. There is no guarantee that you will make these levels of income and you accept the risk that the earnings and income statements differ by individual.
As with any business, your results may vary, and will be based on your individual capacity, business experience, expertise, and level of desire. There are no guarantees concerning the level of success you may experience. The testimonials and examples used are exceptional results, which do not apply to the average purchaser, and are not intended to represent or guarantee that anyone will achieve the same or similar results. Each individual's success depends on his or her background, dedication, desire and motivation. There is no assurance that examples of past earnings can be duplicated in the future.