Edwin Haynes Is The First To Earn $1 Million In ibüümerang
November 4, 2019
By Team Business For Home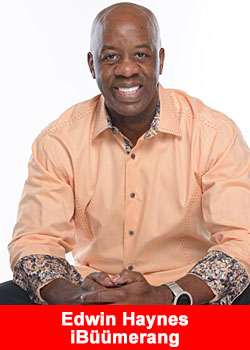 Edwin Haynes is an internationally respected and celebrated businessman from Houston, Texas.
His career began with 13 years in the music industry. For the last 21 years,Edwin. Haynes has an unmatched track record of helping others succeed, a passion for giving, and for being a business leader in multiple industries.
Edwin is the first Ambassador to earn $1,000,000 in ibüümerang and he was able to accomplish this within the first seven months of operation.
When asked about the launch of ibüümerang, Mr. Haynes said,
"In twenty-one years, I have never seen anything like this. People who have never had success in this industry are now winning big.

People who have never been able to sponsor one person have received record incomes because of the simplicity of ibüümerang."
Already well established in business and his financial legacy secure, Haynes was not searching for a new opportunity. However, when ibüümerang founder and CEO Holton Buggs shared his vision of ibüümerang, Edwin did not think twice about accepting the position of Global Master Ambassador.
"I immediately saw that this was my Uber, Amazon or FaceBook moment," Edwin said. "I wasn't invited to be part of any of those launches.

This is the first time I'm in position to be part of the next $50 Billion company."
Because of his enormous love for people and a dedicated desire to change the world for the better, he has used personal lessons of his life's journey to success to help others grow by writing an Amazon Best Selling Book, "You Have Permission to Succeed".
True to his nature of helping others succeed, Haynes Healing of Hearts was formed, a non-profit organization with a worldwide vision to positively impact families that are affected by domestic violence.
Additionally, Mr. Haynes is a passionate supporter of The BüüM Foundation and its vision of an abundant life for every child on the planet.
Edwin Haynes, a top trainer, presenter, and leadership coach, continues to empower individuals worldwide to advance both personally and professionally. Edwin is committed to building a team of hundreds of thousands and creating millionaires around the world with ibüümerang. In Edwin's words,
"I've helped create six and seven-figure earners, but now I can help create multiple seven-figure monthly earners."
Success in the business world and helping others to attain their dreams has been extremely gratifying for Mr. Haynes; however, he believes that his greatest successes are his beautiful wife, three incredible children, and his grandson.
About ibüümerang
Officially launched on September 1, 2019, ibüümerang is a global leader in the technology as a service and direct selling space. Our vision is to be a consumer-centric company focused on the philosophy of giving back to humanity.
Our Mission is to create a worldwide movement of Ambassadors and Customers, to empower people from all around the globe to earn residual income via the PRIB™ (Perpetual Residual Income Builder), to leave a legacy to future generations, and to support The BüüM Foundation in providing an abundant life for every child on the planet.
For more information on ibüümerang, its top tier executive team, and its overarching philosophy, please visit the company website at www.ibuumerang.com.