Marilyn Chivetta Achieves $1+ Million In Career Earnings At Paparazzi Accessories
November 21, 2019
By Team Business For Home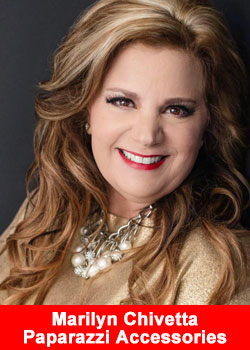 An Elite Fashion Consultant with Paparazzi Accessories Marilyn Chivetta is a magician and fire eater who dropped out of college.
Barely making it through high school, this college dropout, has gone from destitute the night she bought her starter kit to becoming the first single mom to receive Paparazzi's:
$25,000 and $50,000 bonuses in 2018.

Her largest commission check to date is $134,387.29 in one month.
She hated Direct Sales and swore she would never be involved.
Finding herself in a dire situation in 2013, this single mom bought her starter kit when she was destitute as a last resort, with her last $300, on the verge of committing suicide. Marilyn has since become the first single mom to achieve the elite ranks of Paparazzi Accessories and is the first single mom to achieve a seven figure income within a year which was announced on November 20, 2019.
"Claim Your Cleavage!" which means own who you are, believe in your dreams, and make it happen, is her mantra,
that has led to the most iconic, legendary $5 Family in Paparazzi Accessories. Adorned in hot pink feather boas,  The Blessed Bombshells, have an extraordinary culture which transcends our industry; Her message of hope & spreading love is a movement that is essential these days when so many are struggling.
Her beloved Bombshells have earned her the title of "Bling Boss" at its original introduction on stage at Paparazzi's annual convention in Las Vegas in 2018, making her the companies first six figure earner. The Bombshells re-earned this title in less than 10 days into February 2019, leading to her latest accomplishment of seven figure earner.
A true Network Marketing Powerhouse with her autistic 11 year old son Maveric at her side, she has pioneered entrepreneurial strategies along with parenting.

Her son is thriving and having fun and making a difference. Miss Marilyn's #DoItScared, and spread kindness leadership is contagious.
She uses her freedom of time to perform hundreds of Acts Of Kindness yearly. From feeding the homeless in her town, to supporting families battling cancer around the United States,  to working with families globally in need.
About Paparazzi Accessories
Today, the concept of "accessibility" extends to the very mission of Paparazzi. Accessories are sold exclusively through Paparazzi Consultants, and anyone who wishes to sell the line can do it for themselves. The result is a flourishing business that empowers women and builds self-assurance with a fun financial future.
Paparazzi founders Misty and Trent Kirby, and Chani and Ryan Reeve, continue to expand the company with hands-on leadership and clear purpose. They individually design and source materials for Paparazzi products while working directly with manufacturing partners to create the fashion-forward results. For more information please visit www.paparazziaccessories.com