MWR Life Is Growing Fast In The Direct Selling Travel Industry
November 20, 2019
By Team Business For Home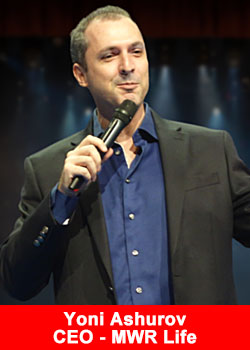 MWR Life's proprietary booking engine is redefining the travel sector in the direct sales industry.
MWR Life, an exclusive members-only travel and lifestyle company, was designed from the ground up to provide solutions for what everyone desires. More money, more time, and more freedom to travel and experience the world. Founded in 2013, by CEO Yoni Ashurov, MWR Life is a global direct selling company that is changing the way the world travels with its proprietary Travel Advantage™️ booking platform. 
"Instead of following the crowd and offering members a one size fits all vendor-based solution, we decided to create the booking engine from scratch.
This option provides us with the ability to improve the user's experience, the flexibility to innovate and remain at the forefront of the industry. It also reduced our overhead, which allows for a more robust compensation plan."
Said Founder and CEO, Yoni Ashurov.
The Travel Advantage™️ booking engine provides members with exclusive access to wholesale rates on hotels, resorts, flights, cars, cruises, trains, activities, and there are many more offerings in development.
"Owning our platform ensures complete autonomy to provide our members with an unbeatable value proposition and a viral customer growth model. The members earn Travel Credits, the Lifestyle Consultants earn commissions, and the company acquires market share.
Best of all, we accomplish this through a process of helping others save money rather than spending it. Everybody wins, and this unique model allows our Independent Lifestyle Consultants to build organizations that generate life-changing residual incomes quickly."
Said Senior Vice President, Kevin Albright.
There are four levels of membership. They even have a free Guest Membership so that everyone, regardless of their economic situation, can benefit from saving money on travel.
MWR Life has also created a way for customers to benefit from their social media audience and sphere of influence. Every membership, even the free Guest Members, receive Guest Passes that allow the member to enroll another free Guest Member.
The booking engine only passes 50% of the available savings to Guest Members. The remaining 50% is split equally between the member who referred them and the upline Lifestyle Consultant.
The member receives their half in Travel Credits, and the Lifestyle Consultant receives their half in the form of commissions. If the Lifestyle Consultant directly enrolled the Guest Member, they will receive the entire amount in commissions.
What is even better about their model is that members earn Loyalty Dollars every month equal to the cost of their membership. After 12 months of loyal membership, these dollars unlock and can be applied towards their exclusive Life Experiences®️.
These fully curated trips are designed to provide a once in a lifetime experience at exotic destinations around the world. Life Experiences®️ include airport transfers, hotel or resort stay, excursions, and a personal host to make sure you have the time of your life. Imagine a luxurious trip to one of your dream destinations for an unbeatable price or even for FREE just for being a loyal member.
About MWR Life
MWR Life is a global travel platform that benefits their Lifestyle Consultants with the opportunity to create the lifestyle of their dreams and travel the world.
With their online Travel Advantage™️ booking platform that has discount travel rates on hotels, flights, cruises, resorts, car rentals, activities and more, and their fully curated Life Experience®️ trips to exotic destinations around the world, they are helping their members create memories that last a lifetime. For more information, visit www.mwrlife.com
Recommended Distributors MWR Life