Nu Skin Q3 Revenue Down 13% To $589 Million
November 5, 2019
By Team Business For Home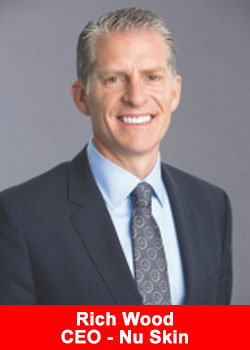 "We delivered strong profitability, with earnings per share at the high end of our range due to our focus on operational efficiencies,"
said Ritch Wood, chief executive officer.
"Revenue came in slightly below expectation, primarily due to the challenging regulatory environment in Mainland China, where meeting restrictions continued throughout the quarter.

Despite this, our sequential sales leader trends stabilized both in China and globally, and recent product introductions and business incentives drove year-over-year increases in customer acquisition. Our manufacturing segment also continued to perform well, with revenue growing 18 percent this quarter."
In October, we hosted our global LIVE event in Salt Lake City to align and motivate our sales force and introduce our future product roadmap,"
continued Wood.
"These new products include our new and improved Galvanic Spa and accompanying consumable products, which are launching in many of our markets this quarter. We expect to introduce several new products in 2020, including a newly reformulated Tru Face Essence Ultra andnew Galvanic gels. We also announced our next major product launch – an innovative daily-use beauty device – that we anticipate will be a strong driver for our business in the second half of 2020. We are excited to add this product to our top-ranked beauty device systems brand."
Mark Lawrence, chief financial officer, added,
"Our fourth quarter revenue guidance is $570 to $590 million, which includes an approximate 2 percent unfavorable foreign currency impact, and earnings per share outlook is for $0.68 to $0.75, considering expenses related to LIVE. For the full year, we project revenue of $2.41 to $2.43 billion, with an approximate 4 percent negative foreign currency impact and earnings per share of $3.07 to $3.14."
About Nu Skin
Founded 35 years ago, Nu Skin develops and distributes innovative consumer products, offering a comprehensive line of premium-quality beauty and wellness solutions. The company builds upon its scientific expertise in both skin care and nutrition to continually develop innovative product brands that include the Nu Skin® personal care brand, the Pharmanex® nutrition brand, and most recently, the ageLOC® anti-aging brand.
The ageLOC brand has generated a loyal following for such products as the ageLOC LumiSpa skin cleansing and treatment device, ageLOC Youth nutritional supplement, the ageLOC Me® customized skin care system, as well as the ageLOC TR90® weight management and body shaping system. Nu Skin sells its products through a global network of sales leaders in Asia, the Americas, Europe, Africa and the Pacific.
As a long-standing member of direct selling associations globally, Nu Skin is committed to the industry's consumer guidelines that protect and support those who sell and purchase its products through the direct selling channel. Nu Skin International is a wholly owned subsidiary of Nu Skin Enterprises, Inc., which is traded on the New York Stock Exchangeunder the symbol (NYSE: NUS). More information is available at nuskin.com.