Top Leader German Castelo And Evo Movement Join IM Mastery Academy (iMarketsLive)
November 5, 2019
By Team Business For Home
Evo Movement, One of the largest Latin American organizations in the network marketing industry, led by German Castelo one of the biggest names in the Latin American market, has partnered with IM mastery academy™.
German Castelo, is a 10-year veteran of the Direct Sales industry and business for home's top 100 highest paid Latin American networkers. Alongside his team of leaders he calls family, they have announced that they will be launching head strong with the new IM Mastery Academy™ formerly known as iMarketslive.
 "German and his team are a great group of leaders. Real hearts looking to make an impact in places that need it most." 
stated Christopher Terry, CEO
The core leadership around German and the EVO movement is comprised of some of the most successful millennials in the Latin American market including:
This organization holds large weekly events spanning 15 countries across Latin America as German describes it, some of the
"best live events with the best trained and most successful networkers you will ever see in these Latin American markets".
The Evo Movement is not a brand, it is a vision and way of life to inspire people across Latin America to strive for greatness every day. The movement was founded on a mission for mastery of self through three principles: mastery of mindset, mastery of money, and mastery of experience. When all three are in focus and are worked on every day,
"you channel a power that manifests into the success we see today in our organization when you master these three pillars. We have expanded across 15 countries, to more than 50,000 people, and we have created fifty-five 6-figure earners across Central and South America, with weekly seminars and events holding thousands of inspired Latin American networkers"
German said.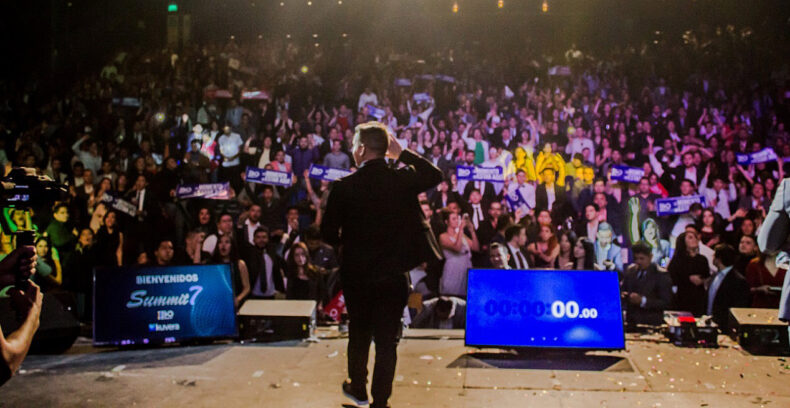 It is a movement across Latin America with the intention of "changing the third world mindset, to a first world abundant mindset, and you see it every day in our people taking control of their future,"  German added.
So, Why IM Mastery Academy? 
"I am surrounded by great, longtime gv friends, but more importantly some of the best leadership this industry has ever seen," German immediately pointed to the corporate leadership of the company and his close ties with CEO Christopher Terry and EVP Alex Morton.
He referred to Alex and Chris as longtime friends and mentors he has always admired from afar. German has been close friends with Christopher Terry for quite some time, even before his organization joined Chris, they had a quite a friendship and respect for each other. 
After the latest changes and growth of the company German saw that Christopher Terry was a CEO he wanted to follow for greatness. "The right leadership speaks volumes of Chris and what he brings to the table. He is leading this company to a million lives changed", German added.
With close ties to EVP Alex Morton after years of attending Go Pro together, speaking at various events and seminars, crossing paths all over the world, and always admiring the way he led his team. He has found a mentor and a partner in Alex.
About IM Mastery Academy™
IM Mastery Academy provides a full array of education, retail trading products and services to a global audience for those who want to participate in the Forex, Digital Currencies & Futures Markets. IM Mastery Academy services include Live Educational Mentorship in 13 languages, Trade Scanners and Algorithms, Signal Providers from trading veterans, a gamified learning process, mobile applications and a whole suite of other amazing services.
IM Mastery Academy has a bundled their products/services with a Network Marketing compensation plan that allows its IBO's to earn a generous income by simply sharing their services with others and building a residual income through building a network of IBO's and customers.
For more information please visit https://www.im.academy

Disclaimer.
We make every effort to ensure that we accurately represent these products and services and their potential for income. Earning and Income statements made by our company and its customers are estimates of what we think you can possibly earn. There is no guarantee that you will make these levels of income and you accept the risk that the earnings and income statements differ by individual.
As with any business, your results may vary, and will be based on your individual capacity, business experience, expertise, and level of desire. There are no guarantees concerning the level of success you may experience. The testimonials and examples used are exceptional results, which do not apply to the average purchaser, and are not intended to represent or guarantee that anyone will achieve the same or similar results. Each individual's success depends on his or her background, dedication, desire and motivation. There is no assurance that examples of past earnings can be duplicated in the future.