Top Leader Greg Hayden Joins QuiAri
November 6, 2019
By Team Business For Home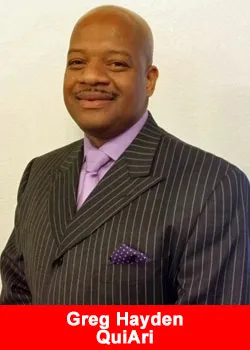 QuiAri Promoter, Greg Hayden, is ready for his next challenge.
As a 20-year network marketing veteran, he knows how to work hard and keep his eye on the prize. Earlier in his career, it was about achieving financial independence. Now it's about helping others live their best life. That's why he chose QuiAri.
QuiAri is a new company that's shaking up the health and wellness industry. They are the next big thing in health and wellness, offering Customers products power-packed with the world's new number 1 superfruit, the maqui berry.
Maqui delivers up to 5 times more power than any other previously known superfruit. QuiAri products contain an exclusive, super-concentrated organic extract, MaquiX™ that boosts the natural power of the maqui berry.
The health benefits of maqui are incredible. From supporting healthy weight loss to promoting a stronger immune system to helping people achieve better overall health, QuiAri products harness the power of the berry and deliver it to Customers in the most delicious way possible.
"I can't believe how great the shakes taste. If QuiAri were a brick-and-mortar business, we'd be giving McDonald's and Dairy Queen a run for their money. I've been in the industry a long time and no shake has ever been this good. I've lost 14 pounds in 20 days with the help of QuiAri,"
stated QuiAri Promoter, Greg Hayden.
As part of QuiAri's Try. Love. Share™ platform, Greg is encouraging people to participate in a "90-Day Kickstart Challenge."
The challenge is a simple two-step process that delivers better health in as little as 90 days.
Step 1: Enjoy a delicious QuiAri shake first thing in the morning
Step 2: Take the QuiAri Energy supplement to power through the day
"The 90-Day Kickstart Challenge is different than any other weight loss challenge. It's simple, anyone can do it, and the taste of the product is amazing. The marketing team calls it a 'challenge,'but I didn't find it very difficult at all."
said Greg Hayden.
QuiAri Founder and CEO, Bob Reina has created a revolutionary business model that helps people improve the quality of their health using exclusive products and get paid instantly to share it. 
"Every company has what I call a 'secret sauce' that leads to their success. QuiAri has multiple sauces all working in their favor. The products are unique, the 90-Day Kickstart Challenge is unlike anything I've ever seen in the industry, and the Compensation Plan is tight.

QuiAri offers Same Day Pay, where Promoters get paid within 5 minutes of each sale. No other company offers that,"
stated Greg Hayden.
Anyone that loves QuiAri products can become a Promoter for a small $25 USD annual fee. All Promoters, even those located outside of the U.S., receive Same Day Pay. Thanks to QuiAri's generous bonus structure, Promoters have many opportunities to achieve their dream lifestyle.
"I ask my prospective Promoters and Customers one simple question —  try the product and tell me what you think. With products that taste this good and health benefits this amazing, it's hard for people to say no. Once they try it, they love it, and want to share with others,"
said Greg Hayden. 
About QuiAri
QuiAri provides life-changing opportunities that empower people to feel their best so they can live their best. Their breakthrough health and wellness products are made from an exclusive extract of the maqui berry, the world's new number 1 superfruit. Plus, QuiAri offers opportunities to receive Same Day Pay just by sharing their products with others. Try. Love. Share!
To learn more about QuiAri, their products and the opportunity to become a Promoter, visit https://quiari.com/en, or follow them on social media @QuiAriOfficial.
These statements have not been evaluated by the Food and Drug Administration. These products are not intended to diagnose, treat, cure or prevent any disease.
Income Disclosure Statement
Please note the QuiAri business opportunity offers unlimited income potential. However, QuiAri makes no guarantee of financial success. Success with QuiAri results only from successful sales.
efforts, which require hard work, diligence, skill, persistence, competence, and leadership. Your income will depend upon how well you exercise these qualities.
As QuiAri is in its first year of business operations, we do not have sufficient statistical data to prepare complete, first-year income disclosures. A more detailed survey will be conducted after our first year of business.