Top Leader Lisa Petersen Makes Her Mark At Touchstone Essentials
November 8, 2019
By Team Business For Home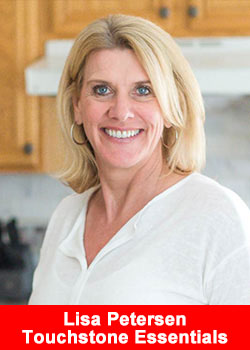 After an introduction to the party plan business model, Lisa Petersen forged a path to success that saw her grow a team of thousands nationwide, and secured her family's future with a seven-figure income.
One success led to another, as Lisa moved to a wellness network marketing company, proving her transformative leadership skills work in every type of business model and industry. Having achieved her personal goals through the direct sales business, Lisa was driven to help elevate her team's dreams of financial freedom.
Lisa shared,
"I know from personal experience how it feels to struggle, and it inspires me to help others, especially single Moms who may be finding it hard to get ahead. It's one of the reasons I love the direct sales business model: it encourages and rewards you for lifting others up."
That motivation is why Lisa chose Touchstone Essentials as her next level business venture. She was attracted to both the purity of the wellness products and the ethical leadership of the company and knew it would be the perfect place for her team to thrive.
Lisa explained,
"The combination of the amazing on-trend products, quality leadership, innovative marketing system, and generous compensation plan make Touchstone Essentials stand out from all the rest.

Remarkably, business partners have two ways to participate: at the free, zero-purchase Affiliate level with a limited compensation plan, or the low-cost Visionary Business Owner (VBO) level with full access to the rewarding compensation plan.

This opens up the door for everyone to experience their preferred financial success."   
According to Lisa, the business advantages that Touchstone Essentials offers are matched by their superfood-based products which earn rave reviews from customers. Attuned to the market trends that drive future growth, Lisa sees Touchstone Essentials as being positioned in the right markets at the right time.
Recent analysis from the Brightfield Group backs up this assessment, projecting that the hemp oil industry is on track to continue its rapid ascent to a $22 billion dollar industry by the year 2022.
"Everyone wants to know about CBD Oil, and there is a lot of interest in the organic movement. And it's not just in the US—there is a global demand for organic.

It's only going to get bigger. Millennials want healthier options and to support companies that have a positive impact on the world. And they want everything online.

With organic whole foods, advanced digital resources, and a commitment to sustainability, Touchstone Essentials is perfectly positioned to be a global leader for generations to come,"
explained Lisa.
Lisa has already begun to make her mark at Touchstone Essentials, growing a vibrant team from coast to coast. Her winning team philosophy also encompasses the importance of pursuing your dreams.
"Growing up, my kids learned the importance of working hard and being persistent. They also saw that if you go after what you believe in, magic things will happen!"
About Touchstone Essentials
Touchstone Essentials was founded in 2012 by 30-year industry veteran, Eddie Stone, with a vision of organic goodness accessible to everyone. They ship to over 60 countries around the world. Touchstone Essentials has been experiencing double-digit growth over the past 3 years and with the recent launch in August 2018 of the organic CBD hemp oil line, things have started reaching critical mass.
They describe themselves as proud rebels with a cause, offering products for Daily Detox, Organic Superfoods, and CBD. When you join as a VBO, you become a visionary business owner. As a VBO, you're the CEO of your own empire, but you're not alone. Touchstone Essentials offers an advanced digital marketing system with a trove of resources, all at no additional cost. This includes a TheGoodInside.com e-commerce site, blog, and e-newsletters, social media retargeting and more. For more information please visit www.thegoodinside.com