Top Trainer Sashin Govender Launches Generic MLM Training Program
November 11, 2019
By Team Business For Home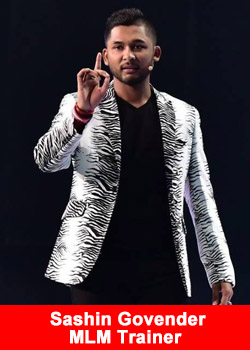 Sashin Govender is a world-renowned speaker on leadership, sales, entrepreneurship, digital marketing, and an expert in helping you reset your paradigm.
He created Virtual Upline Mentor (V.U.M) in which you have access to an upline and mentor virtually.
According to Sashin Govender:
Virtual Upline Mentor condenses 8 years into more than 110 videos and virtually mentors you from scratch with simple steps.
Do you want to make a little bit of money or a lot?
Do you want to learn from from expert's mistakes or do you want to make the same mistakes that they made?
Here are a few examples of the topics Sashin covers in these 110 videos.
How to find your why.
How to help a new member find their why.
Found your why, now what?
Lost your why, now what?
3 Laws to stay consistent and persistent.
4 Characteristics to become a product of the system.
What leads to a lack of duplication.
What leads to massive duplication.
3 Phases of duplication.
And more than 100 videos.
The secret to any successful Network Marketer is finding the right mentor with documented success, then match model and mirror them, ask questions, emulate and articulate their actions, and eventually you always get what they have.

And if you don't have access to a mentor, you don't really have a mentor.
Sashin was born and raised in South Africa, a 3rd world country, with an average monthly income of $300. Through hard work and determination, he was able to earn his first 6 Figures by age 19, 7 Figures at 21 and became one of the youngest multi-millionaires at 24.
He attributes his success to personal development which he was introduced to at a tender age of 8 years old and was also a Chess wizard at 6 years old, which helped him develop a strategic thinking process and becoming a visionary in which he plans 15 moves in advance.
Now, he has crowds of tens of thousands sitting at the edge of their seat in stadiums such as AT&T Stadium in Arlington, Texas, and inspired entrepreneurs in more than 90 countries and 6 different continents. His inspirational journey has inspired millions of people around the world, as he shares his message of success and positivity based on the 4 Pillars To Mastery: Health, Wealth, Spirituality, and Relationships.
For more information please visit www.winwithsashin.com