ByDzyne Partner With MTI For Forex Education Trading Services
December 27, 2019
By Team Business For Home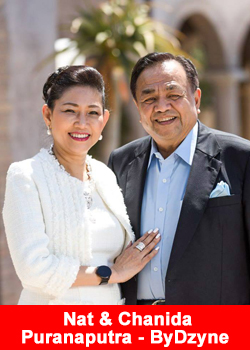 Smart Market Academy (SMA) is a 1st class forex education platform that will set itself apart from the rest with unparalleled mentorship and unique software with automation that will empower students in a self-paced, self-guided learning ecosystem.
Armed with both its physical and digital products, ByDzyne is set to disrupt the industry in 2020, living up to their global mission to truly create limitless opportunities and possibilities.
To accomplish a feat this big, ByDzyne has partnered exclusively with MTI®️ (Market Traders Institute) – the first, oldest, and most trusted forex technology and training organization in the world – considered the 'Rolls Royce' of online forex educators globally. MTI®️ has successfully trained over 1 million traders over the last 25 years and has for the first time ever ventured into the world of network marketing through the launch of Smart Market Academy powered by MTI®️.
Mentorship
SMA students will have over 5 hours a day of live mentorship by a host of professional full time forex expert analysis. ByDzyne's partnership with MTI®️ brings in a wealth of resources and advantages to its students that gives them and you an edge over the rest.
The Founder of MTI®️ Mr. Jared Martinez, aka 'FXCHIEF®️' is a specialist in understanding the psychology behind traders. With over 30 years of forex experience and valuable insight into the markets, he is considered an acclaimed industry expert (as seen on MSNBC & FOX), an international speaker and best-selling author. SMA students will have special access to the FXCHIEF mentorship for over 2 hours a week.
Mr. Gary Fichardt, the Director of Trading at MTI®️ comes in with 27 years of experience and focuses on advanced strategies for 6 hours per week. Along with mentorship starting right from the top, SMA gives its students access to live and archived daily analysis on trading sessions (New York, Tokyo, London) from professional forex analysts.
The quality of mentorship at SMA is unparalleled and unlike any other forex learning platform where mentors deliver quality content and education based on their own experience, applying it to current market trends.
As recent as the third quarter in 2019 over 60% of its students reported a profit and 1/3 of customers reported earning 20% or more.* As an MTI®️ student, you are two times more likely to profit when trading forex!
(*MTI®️ 2019 Client Survey compared to the Profitability Analysis by GAIN Capital Group LLC for Quarter 3 in 2019).
Software
SMA has yet another unrivaled advantage using automation through SmartTrader®, a proprietary cloud-based charting platform. The Harmonic Trader with Automation, unique only to MTI®️ and gives forex market novices the encouragement needed to take their first steps.
The custom-designed platform – with an unheard of success rate averaging 74% (statistics are the result from back-testing these patterns against 10 years of Forex data for all major pairs)- quickly identifies Harmonic Patterns. With SmartScripts, users are able to then activate automatic trades with these patterns. This incredible combination of mentorship and proprietary cloud-based charting platform are perhaps SMA's biggest USPs and the mark of a matchless product. 
Education
Considered the biggest financial market in the world with more than US$6.6 trillion traded a day, the forex market is an attractive long-term financial opportunity, yet for many, it is intimidating as it has a considerable learning curve. With SMA, ByDzyne has truly bridged the knowledge gap offering a digital educational platform with over 45 hours of weekly training and mentorship that allows anyone, regardless of their experience, to immerse themselves into an easy to navigate online academy. Users can utilize training videos, checklists, quizzes, state-of-the-art charting software, analytic tools, advanced strategies, and much more so they can explore the forex market confidently.
Highlights of SMA courses:
14 lessons on the foundations of Foreign Exchange trading
12 lessons providing insight into the basics of the Cryptocurrency market
Harmonic Trader with Automation Course
Traders Checklists & Economic Calendar
Daily Trading Ranges & Currency Analysis Reports
E-Books & Guides
What ties in this unbelievable package of meticulous course content, unrivalled mentorship and unique software is the exclusive access to all these features for such a competitive price offered only to ByDzyne's SMA students.
ByDzyne's mission to creating one of the most explosive opportunities in the market is now furthered with the launch of SMA, and will continue to capitalize on trends, and gain market share in upcoming industries as they advance.
About ByDzyne™
ByDzyne's multi-faceted approach disrupts the traditional industry model by first understanding that one size DOESN'T fit all.
You were born into a particular culture, with unique tastes, interests, and desires. ByDzyne™ was created with a mission to celebrate your uniqueness and empower your extraordinary potential. Our exceptional "culture-crafted" products meet distinct needs in key consumer markets, and our lucrative business opportunity was formulated to fuel your ideal lifestyle, as YOU see fit.
Our visionary leadership wanted to create an unparalleled company with your individual needs in mind, whether as a consumer or Brand Ambassador. This customizable approach is a driving force that propels everything we do and will do in the future. We are launching into not one but FIVE of the fastest growing multi-trillion dollar industries, creating one of the most explosive opportunities in the market, starting with technology, beauty, wellness, travel and now trade.
Our mission is to continue to expand our global footprint into multiple verticals to maximize your income opportunities, capitalize on trends, and gain market share in upcoming industries as they advance.
Through ever-evolving innovation, and with the utmost integrity, our experienced executive team strives to stand apart from the pack, and build a legacy you can be proud of; one you can truly call home. We are ByDzyne™. Where limitations don't exist. For more information, please visit www.bydzyne.com.
DISCLAIMER:
THE SMA PRODUCT, IN PARTNERSHIP WITH MTI®️, PROVIDES INFORMATION THAT IS SOLELY FOR EDUCATIONAL PURPOSES AND IS NOT INTENDED AS INVESTMENT ADVICE, NOR IS IT SUITABLE TO YOUR INDIVIDUAL CIRCUMSTANCES. FOREIGN EXCHANGE TRADING CARRIES A HIGH LEVEL OF RISK AND MAY NOT BE SUITABLE FOR ALL INVESTORS.
To read the full Risk and Product Disclaimer visit https://www.bydyzne.com/wealth.
Recommended Distributors ByDzyne