Mojahed Saleh From Jordan Achieves Diamond Rank At Success Factory – Dagcoin
December 20, 2019
By Team Business For Home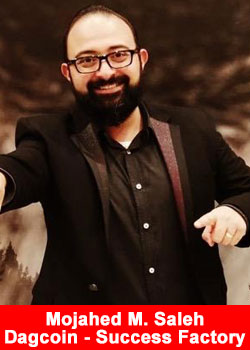 Mojahed M. Saleh, from Jordan, is an experiences network marketing professional with over 7 years in the industry.
Mojahed also has a background in one of traditional industries, which is geological and petroleum engineering. On top of that, he is a professional human development coach and motivational speaker. However, Mojahed admits that the network marketing business is the one he is especially enthusiastic about:
"What attracted me to the industry were all those incredible success stories, but more importantly, the positive environment I found here, with people of high ambition and a rich mindset.

Not to forget the fact that this industry is basically the fastest way to get to financial freedom.
One should always pay the price, but after that, you will be free to create the life you really want to live. And network marketing gave me something that I truly want to do, which is bringing to people the opportunity to change their mindset and thus, change their lives."
Mojahed joined Success Factory in November 2018 by the invitation of some of his current team mates from the Eagles team. After exactly a year of work, he obtained the long-desired Diamond rank.
"I studied Success Factory and found that it has one of the strongest financial systems I've ever seen. And I also saw wonderful results that my uplines were having. They helped me a lot on my path, and I would like to give some words of thanks to Diamond Dr. Ahmed Al Sulaiman and Black Diamond Dr. Adam, as well as to the great mentors of us all Igor Alberts and Andreea Cimbala.
I have to say that Success Factory is an honest company, committed to its promises and with a very high moral standard. I'm amazed by how its system is working. Shortly after joining the company, I already had enough income and was able to leave my previous traditional job, which didn't satisfy me at all.
But, of course, it's not all money. I also learned a lot. The key word for me would be "identity". It defines your whole life and everything in it. For example, my success, my Diamond rank is my identity. It's very important to understand that everything starts in your mind."
Mojahed is now focusing on developing his team, which stretches over several countries in the Middle East and in Europe. He confesses that the financial benefit the company has given him will also help him to set up a traditional company in the engineering industry and carry out the projects he has always wanted to see a reality.
About Dagcoin
We believe that cryptocurrencies are here to be a step up from regular money. This means improving the speed of transactions while reducing the cost, giving access to money to more people with lesser restrictions and limitations, giving more freedom to transact.
And at the same time preventing fraud and illegal activities. Dagcoin was created to fulfil all of these criterias – to become a digital version of money that people can use all around the world.
Our currency is meant for using. This means that in the future you will be able to do everything with dagcoins. That includes getting paid, going shopping, exchanging, taking loans, paying for services, travelling, and almost everything else that comes to your mind. For more information please visit www.dagcoin.org
Recommended Distributors Success Factory