Planet Impact "Saving The Earth While Making Money"
December 22, 2019
By Team Business For Home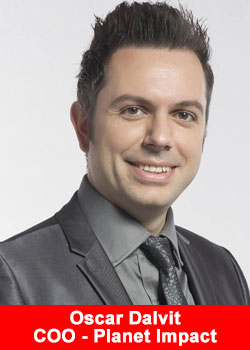 Planet Impact: "Saving the planet while making money" through environmental selling.
In November Planet Impact reached the first milestone, the first payout of the commissions. Despite being in soft launch mode, Planet Impact affiliates achieved outstanding financial rewards for themselves and our planet.
Ted Nuyten had the honour to interview Planet Impact executives, Oscar Dalvit and Adrian Szumski:
Can you please explain me PLANET IMPACT in the shortest possible way?
"Planet Impact knows we need a big business to solve a Big Problem. What is the Big Problem? "That our planet is dying!" Planet Impact is an affiliate model in the Direct Selling industry that allows its affiliates and customers to positively Impact the planet while at the same time making money. That means – Profit for Planet = Profit for You."
Our planet is dying? Can you explain this better please?
"Yes, you are right. Let me elaborate. We all know that our planet will not die immediately. Our planet will still eclipse around the sun in a million of years. What we mean is that life on earth is threatened as a result of population growth, industries, pollution, deforestation etc.
This has an imminent impact on our generation and our children's generation. And this damage is immediate. It is happening now at a proliferating rate – destroying huge natural habitats, killings entire animal species, and endangering our health and ability to live on this planet."
Planet Impact incentives people through an affiliate program to help save the planet – this is what you call "profit for planet and profit for affiliates", right?
"We call it environmental selling. Planet Impact offers a monthly 60 € Membership that not only draws the masses into this so important topic but also contributes to saving our planet. For each 1 € paid in commission to our affiliates, another 1 € is spent on saving the planet. Now, in this very moment, funds are being used to protect endangered land, and habitats."
What did Planet Impact achieve in 2019?
"We successfully launched operations on the 2nd of October. We already paid out the first commissions according to the compensation plan on the 15th of November and the 15th of December, providing "Profit" to our affiliates.
Planet Impact further made the first transfer of funds to the Earth Alliance Foundation which is protecting the rainforest. The first milestone has been achieved, the first transfers have been made. Planet Impact delivered its promises and is growing fast."
What are the goals for 2020?
"Besides growing the European market, Planet Impact will expand to new markets with big international partners and co-operations. Future affiliates around the globe have asked us to open operations in their countries which we will do so in 2020."
Which markets are you planning to enter?
"The environmental trend is not only confined to Europe. It is also a big topic in the East. For example, China, South East Asia, and India are the countries that planted the most trees and created most of the new green areas over the last decade.
Those are some of new focus areas we are looking to expand to as well as realise local impact projects. Given our fully compliant business model, we find strong support from governments and regulators. Further, we are exploring the Americas and will give an update on that in a few months. If you are looking for a reliable opportunity that has a noble purpose, the brightest star in the sky is Planet Impact for 2020."
Thank you for the answers. We wish Planet Impact all the best for 2020.
"Thank you. And just one final call to action. If you are qualified, experienced and would like to participate in the opening of the next mega markets – email us to book a private meeting: [email protected]"
About Planet Impact
Planet Impact vouches to adhere to all explicit and implicit MLM and Affiliate-Business rules, regulations, local and federal tax mandates, and fair practices to build an unshakable foundation on which a high impact business can flourish indefinitely.
Only that way, its stakeholders and communities will be able to reap the full benefits from the Planet Impact ecosystem.
Planet Impact will NOT cut any corners, even at the risk of growth and profitability; as we believe the key to success is long term sustainability upon which the business has to be built. The Planet Impact growth is fuelled by a true customer-based affiliate marketing model.
For more information please visit www.planetimpact.com