QuiAri Promotes Brad Stewart To Director Of Field Development
December 6, 2019
By Team Business For Home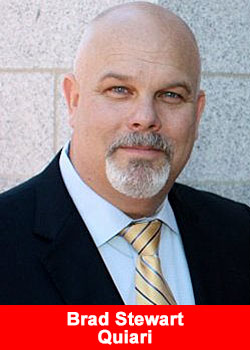 With thousands of Promoters and Customers located in over 100 countries worldwide, word is spreading fast about the healthy benefits of the maqui berry and QuiAri's proprietary super-concentrated organic extract, MaquiX™. Launched in Brandon, Florida on October 1st, 2019,  Founder and CEO, Bob Reina and VP of Marketing, Allison Roberts, have been leading global expansion efforts by developing resources Promoters can use to help take their QuiAri businesses to the next level.  From mobile app enhancements to innovative marketing tools designed to generate interest, QuiAri is clearly on a mission to be the #1 health and wellness company in the world.
Bob and Allison have a keen eye for spotting talent in the field. 10K QuiAri Promoter Brad Stewart has been identified as a passionate Promoter from day 1 and is a former high ranking executive of several multi-million dollar MLM companies. He is tasked in his new role to help build QuiAri into the next billion dollar business.
"Brad's passion and enthusiasm for the QuiAri brand is contagious. It's no surprise that he has found success as a QuiAri Promoter. Considering his impressive experience in the industry as a CEO, COO, and distributor, we are happy to announce his new role as our Director of Field Development.

He will now have an greater opportunity to energize and mentor all of our Promoters worldwide,"
said Founder and CEO, Bob Reina.
Brad was both honored and humbled to be selected for the role and plans to get to work immediately.
"I will not let the team down. We are rapidly growing as a company, so now is the time to ensure our communications in the field are aligned with the direction coming from QuiAri's corporate team.

I've built brands from the ground up so I know what needs to get done. My goal is to help create a singular system between Promoters regardless of location. From Alabama to Africa, there should be a consistency in messaging and a culture that promotes growth, "
stated Brad Stewart, Director of Field Development.
 In addition to outstanding leadership, QuiAri has an abundance of resources that most other companies do not offer. From an in-house technology team to expert marketing and support to Same Day Pay, everything is state-of-the-art and designed to help people succeed. Brad is most excited about the exceptionally high quality of the product and its wide appeal.
"It doesn't matter what language you speak. Everyone wants to feel good, look good, lose weight, etc. When they try a shake or a tablet, their reaction is always the same. People love the one-of-a-kind taste and are excited about the opportunity to earn Same Day Pay," said Brad Stewart.
Brad said that in his 30-year career he has never seen products this embraced by Customers and Promoters anywhere. He believes QuiAri's strong leadership can be attributed to the successful company launch.
"I'm going all-in on this opportunity. QuiAri leadership has an absolute powerful understanding of their mission and vision. What we have is a simple system that can be easily duplicated. All we ask is that people plug in and use the tools we provide. In return the company rewards them with Same Day Pay. No other health and wellness company in the world offers that."
Brad believes that anybody interested in the QuiAri opportunity shouldn't hesitate to join.
"We're entering a $4 trillion dollar market with a never-before-seen product that has an impressive range of benefits. We're fast, we're nimble, we have superior technology and frankly a superior product. The people that get in early are the ones that will reap the biggest rewards," stated Brad Stewart.
About QuiAri
QuiAri provides life-changing opportunities that empower people to feel their best so they can live their best. Their breakthrough health and wellness products are made from an exclusive extract of the maqui berry, the world's new number 1 superfruit. Plus, QuiAri offers opportunities to receive Same Day Pay just by sharing their products with others. Try. Love. Share! To learn more about QuiAri, or to get in touch with a Promoter, visit QuiAri.com.
These statements have not been evaluated by the Food and Drug Administration. These products are not intended to diagnose, treat, cure or prevent any disease.
Income Disclosure Statement
Please note the QuiAri business opportunity offers unlimited income potential. However, QuiAri makes no guarantee of financial success. Success with QuiAri results only from successful sales efforts, which require hard work, diligence, skill, persistence, competence, and leadership. Your income will depend upon how well you exercise these qualities.
As QuiAri is in its first year of business operations, we do not have sufficient statistical data to prepare complete, first-year income disclosures. A more detailed survey will be conducted after our first year of business. If income projections were presented to you prior to your enrollment, such projections are not representative of the income, if any, that you can or will earn through your participation in the QuiAri Compensation Plan.
Recommended Distributors QuiAri