Toni Garcia Achieves Ambassador Rank At Elepreneurs
December 3, 2019
By Team Business For Home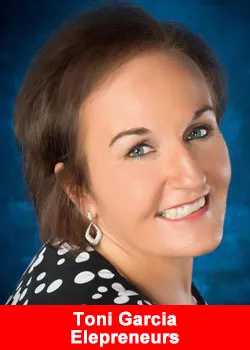 When it comes to business and life, Toni Garcia takes a pared-down approach.
"People don't have to study and learn how to tell their story; they don't need an education on how to prepare a cup of coffee,"
says the Louisiana-based Elepreneurs Ambassador.
"People are looking for simplicity in life, and that is exactly what we are prepared to offer them."
Toni realized she herself needed that simplicity after she began experiencing health issues.
"My very first D.O.S.E. helped me feel like myself again after an incredibly tough few years," she explains. "I knew if one cup of coffee and one little pill could help me  feel that much better, then I needed to be a part of this happiness movement."
So she signed up as an Elepreneur … and began by simply telling others about herself. "When I share my story with someone, it gives them a beacon of hope. So many of our loved ones and friends are absolutely miserable and are looking for a happier life," she says.
As a result of joining this business, Toni began reaching out to new friends and reconnecting with old ones, too. Everyone has their "why" for trying the products or entering the business, whether it's improving their health or their financial situation, says Toni. But no matter the "why," she feels she's elevating the lives of others.
In addition to improved health, wealth, and happiness in her own life, Toni has found a community in Elepreneurs.
"Nowhere have I ever seen a community with such a strong bond in which everyone is so open and ready to help one another," she says.
"Many companies talk about this; we actually do it! I have personally built so many sideline relationships and absolutely love and adore every single one," she adds. "We are truly all in it for the right reasons, namely to unite and to elevate!"
About Elepreneurs
Elepreneurs is on a mission to elevate your health, wealth, and happiness. We help you elevate your life through patented nutritional products, life-changing virtual success training, and a unique rewards program.
Elepreneurs actually builds happiness right into our powerful nutritional products. The superior, scientifically backed ingredients stimulate the happiness hormones — dopamine, oxytocin, serotonin, and endorphins — which we refer to as D.O.S.E. For more information, visit www.elepreneur.com.
Recommended Distributors The Happy Co.