VYVO World Congress Shows Strong Business Expansion
December 12, 2019
By Team Business For Home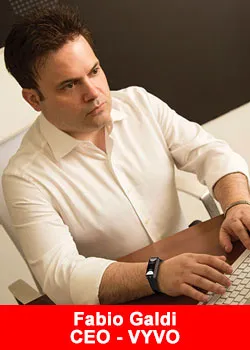 As a symbol of its strong business expansion, VYVO Corporation recently announced the opening of its dual world headquarters.
True to its definitive technology core and character, VYVO is opening its Research and Development Headquarters in world-renowned Silicon Valley, California, USA, the center of the tech universe.
VYVO is also opening their network marketing headquarters in their brand new building in Salt Lake City, Utah, USA, one of the world's great centers of network marketing success and expertise.
In commemoration of their new Silicon Valley office, VYVO held their inaugural VYVO World Congress ("VWC") at the Hyatt Regency San Francisco on December 6-7, 2019.
This outstanding technology conference resembled a United Nations-type gathering with VYVO distributor leaders and VIP guests traveling to San Francisco from Asia, Europe, the USA, Canada, Latin America and the Caribbean.
This first-ever technology event was a resounding success for this distinguished international audience.  The VWC featured two days of exciting announcements regarding significant enhancements and visionary expansion of the Company's dynamic value proposition.  The positioning of VYVO's influence and prominence in the world of entrepreneurial technology is now clearer than ever before.
The VWC was the perfect exclamation point to its current success and the continuation of its undeniable Momentum Phase for VYVO 2020.  Those in attendance could feel the history-making nature of this gathering of VYVO stakeholders assembled in San Francisco.
VYVO's President and CEO, Mr. Fabio Galdi, eloquently stated,
"As VYVO is leading one of the most important technology achievements to come out of Silicon Valley in the past 20 years, we are humbled to realize our influential role in transforming the way the world manages and protects our personal health and that of our loved ones.

Our mission extends also to preventing the likelihood of negative health situations.

The vital health concepts of protection and prevention are at the very center of our Life Sensing Technology."
The Company's tech devices take accurate and real-time health data and combines these powerful biometrics with the sophisticated algorithms of VYVO's innovative artificial intelligence analysis to deliver a wide spectrum of personal health solutions.
The launch of the newest and advanced wearable device, the VYVO WATCH LITE EDITION, was a very exciting moment for VYVO's tech advocates who filled the venue. This ultra-thin and stylish device has been received with enthusiasm and appreciation for its innovative features and design. Watch Lite's ultra-thin presentation is undeniably strong.
There is only 7mm of width enclosing the protective and informative power of this technological gem. Elegant, discreet, smart, and modern.
An electric atmosphere reached new levels when the innovative VYVO Pay Strap and the associated VYVO Pay service were revealed for the first time. The VYVO Pay Strap is an accessory that fits all VYVO wearable devices and is available now. This new technology feature, as close as your wrist,  allows a safe and convenient way to pay for goods and services virtually anywhere. With the VYVO Pay Strap, you can now effortlessly shop to your heart's content at any NFC Point Of Sale around the world.
Not to be outdone by the dramatic tech announcements, the entrepreneurial benefits of the VYVO opportunity were highlighted with great fanfare with the announcement of two new income streams for VYVO distributors around the world.  Without exaggeration, it is to be noted that these new financial gateways have never before been seen in network marketing or in the broader profession of direct sales.
VYVO distributors are running fast and furious with a vision of unparalleled belief and rapid action.  A strong motto emerged from the San Francisco conference, "What unites us, ignites us!"  The VYVO World Congress definitely poured gas all over the fire.
About Vyvo
Vyvo headquarters are based in Singapore, with US offices in Miami, Florida, and Provo, Utah.
Vyvo stands apart as a fast-growing company and a leader in the Network Marketing Industry. In its ten offices distributed across the globe, Vyvo employs the brightest minds, the best professionals and highly motivated personnel to drive its business forward with the most exceptional quality and creating sustainable and valuable opportunities for its distributors worldwide.
Using innovative products and a proven, direct selling business model, Vyvo helps its distributors around the world to transform their lives, their livelihoods, and that of their loved ones.
For more information please visit www.vyvo.com