332,000 New Members Joined WorIdVentures In 2019
January 2, 2020
By Team Business For Home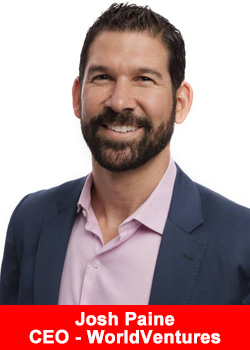 WorldVentures, the leading direct seller of global travel and leisure club memberships, announced this week that the company welcomed 332,922 new DreamTrips Members in 2019 worldwide.
"Our global community of DreamTrips Members are enthusiastic about the holistic value proposition of the DreamTrips Membership,"
CEO Josh Paine said.
"Members have a full product spectrum of travel benefits, including professionally curated trips, incredible destinations, a loyalty program, great savings, daily benefits and more. We've made the travel experience simple and seamless, and will do more in 2020 to enhance an already award-winning travel membership."
With new countries added to its membership base, including the Philippines and Brazil in 2019, the company accelerated its international growth, bringing its total markets to well over 40. After 14 years in business, WorldVentures offers a premiere travel club membership to more people than ever before to allow them to connect and see the world together.
Today, the company offers four tiers of membership: DreamTrips, DreamTrips Gold, DreamTrips Platinum and, as of 2019, DreamTrips Titanium, an exclusive membership tier.
WorldVentures anticipates opening additional new countries in 2020, increasing its international reach and allowing new DreamTrips Members to experience a culture that is inclusive and enthusiastic about travel.
WorldVentures is focused on expanding travel opportunities for its members, as well as supporting and growing the businesses of its Independent Representatives, and contributing to the economies of new markets.
The company expects to welcome more members in 2020 into a club where people around the world pursue great life experiences and use the DreamTrips Membership to connect and experience the world together.
About WorldVentures
WorldVentures Holdings LLC is a privately held company based in Plano, Texas, an affiliate of WorldVentures Marketing that sells travel and lifestyle community memberships providing a diverse set of products and experiences. The company's goal is to help Independent Representatives, DreamTrips Members and employees achieve more fun, freedom and fulfilment in their lives.
WorldVentures uses the direct sales model to go to market with active Representatives and members worldwide. For more information, visit worldventures.com.